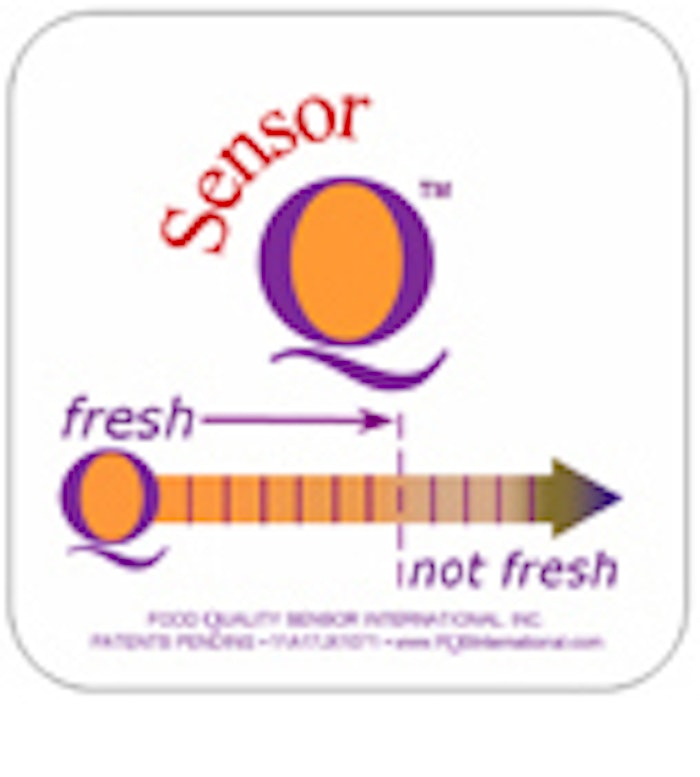 U.S. lamb processor Superior Farms, Davis, CA, is in the final stages of testing a first-of-its kind label designed to detect spoilage in uncooked meat and poultry products after packaging by the meat packer, distributor, or grocer. The SensorQ™ smart label was rolled out nationally by Food Quality Sensor Intl., Inc. (FQSI) at October's Worldwide Food Expo in Chicago. At the event, FQSI president and CEO Marco Bonné told Packaging World, "There is nothing like this label in the world."

Dave Lipsett, technology development manager for Superior Farms, says that the SensorQ label aligns with the company's commitment to high-quality meat products. "Our customers depend on us for safe, wholesome, high-quality food products," he says, "and we pride ourselves on finding innovative ways to stay on the forefront of technology."

For Superior's MAP products

Superior Farms offers veal and lamb under its own name, and lamb imported from Australia under the Country Meadow brand name, to retailers and restaurants across the United States. It also packs case-ready beef and pork, and value-added products, including stuffed pork chops, premade kabobs and kabob kits, and beef pinwheels. The processor employs vacuum packaging for its primals and subprimals, and modified atmosphere packaging (MAP) through both master-bag and barrier-tray programs.

The SensorQ label will be used on the company's MAP products, relates Dr. Melissa VanLaningham, Superior Farms' director of food science. "Once this new label is on packaging, shoppers will be able to determine freshness in the store and after taking the product home, eliminate the guesswork," she says. "We want them to know that their safety is important to us."
Another application being tested is the use of the labels for outer bags, or "mother bags." The mother bag is a high-barrier bag into which individual, prewrapped trays of meat are packed. The bag is vacuumed and then gas-flushed prior to sealing. At the retail store, the mother bag is opened, and the trays are placed in the meat case.
Says Dr. VanLaningham, "In the mother bag application, the aim would be to give one more validation to our retailers that the mother bag product they open is wholesome. Especially with new personnel opening a low-oxygen mother bag where the product is purple until it is exposed to oxygen and has time to bloom, this would help them understand that the product is not spoiled. We are testing this procedure in-house now."

Bacteria triggers sensor

The stick-on SensorQ label, comprised of food-grade materials, is applied to the inside wrap of fresh meat or poultry products during packaging and detects food-borne bacteriological levels inside the package. A "Q" printed on the label acts as a visual tool to determine freshness. When the inside of the Q is orange, the product is fresh. As the meat or poultry spoils, naturally occurring bacteria becomes too high and emits gaseous byproducts, including molecules called biogenic amines. These molecules cause the inside of the Q to turn from orange to tan, indicating not fresh, and then to green or blue, which denotes "beyond spoiled," explains Megan M. Owens, executive director of marketing and product management for FQSI.

Bonné relates that the advantage of the SensorQ system is that it enables consumers to better determine product freshness at home. "The fresh meat and poultry industry can now extend its reach directly into home refrigerators to give the added level of quality assurance so critically needed in this day and age," he says. "SensorQ will remove the skepticism that more than 40 percent of consumers have with the traditional 'consume by' code-dating system."

Applied manually and automatically

The SensorQ labels are supplied to packagers on a roll, in a zippered film bag that provides "years" of shelf life, notes Bonné. The labels can be applied manually to the inside of meat or poultry packaging, or through the use of automated labeling systems. At Superior Farms, Dr. VanLaningham says, the labels are applied prior to the seal station either by hand or via an automatic label applicator. The introduction of the labels, she notes, required no change in Superior Farms' packaging process.

Regarding the price of the labels, Lipsett notes that while they do represent some additional costs, "an increase is worth it when customers are provided with a tool to ensure food safety."



Companies in this article