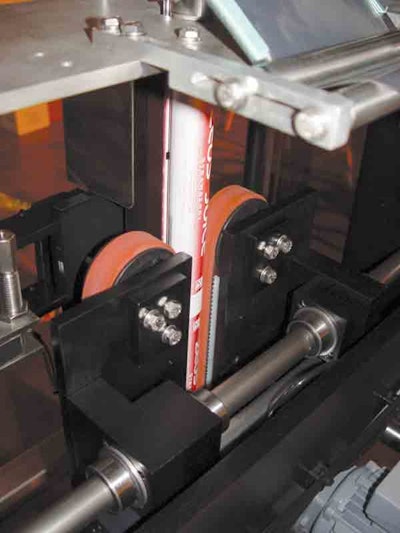 Contract manufacturer/packager BPNC, Inc. (www.bpncdistillery.com) is producing "Zeus Juice Frozen Cocktail" freezer-pops with 8.2% alcohol content by volume for MSCR, LLC. The grain alcohol-laced freezer-pops, developed by MSCR president Mike Sciucco, are being packaged in 50-mL, 2" wide x 8" long pouches and are sold through liquor stores, bars, and night clubs across the United States.
Sciucco notes, "I created the product idea in college several years ago. I launched it originally in 2003, but shut the business down because the packaging machine was a lemon, and I needed to finish law school."
In pursuit of optimum machinery
When Sciucco prepared to relaunch Zeus Juice freezer-pops in new packaging, he teamed up with an old friend Brian Pearson, owner/operator of BPNC, Inc. The contract manufacturer/packager has the special license needed to produce alcohol-containing products and has experience in the novelty liquor category.
One of the key steps in planning the relaunch was finding the right packaging machinery, which MSCR would purchase for installation at the BPNC facility. Sciucco researched companies all over the world before deciding on a machine from Matrix Packaging Machinery (www.matrixpm.com).
"Matrix is not known for liquid fillers," says Sciucco. "However, they listened to me and provided me comfort, assuring me they could custom-create a quality machine quickly [in five weeks] and would stand behind it."
In February 2007, Matrix installed a Mercury 2840R vertical form/fill/seal machine at the BPNC plant. It works in combination with a piston filler manufactured by REB, Inc. (www.reb-inc.com).
"I had two initial requirements: number one, a machine that works, and number 2, good customer service," says Sciucco. "Matrix has gone above and beyond that. From start to finish, the Matrix team, including sales rep Curt Swank, has done a great job. I cannot say enough about the team's work ethic and responsiveness to our needs."
Package anatomy
The 3-side-sealed (top, bottom, and back) pouches are formed from a high-barrier, 4-mil lamination consisting of polyester/aluminum foil/polyethylene. The 3-color flexo-surface-printed film is supplied by Custom Printed Products (www.ccp-flexo.com).
Currently, the pouches are being formed, filled, and sealed at approximately 35/min. But efforts are underway to increase that output rate. Discussions also are underway regarding the installation of a second Matrix machine to meet growing product demand.
The finished pouches are manually packed in 6-counts in clear plastic cylindrical containers (extruded PETG tubes with PVC ends) supplied by VisiPak (www.visipak.com), a division of Sinclair & Rush. Sciucco likes the impulse-purchase power of the clear cylinder 6-packs. He points out, "They can be put on a shelf or a counter, stacked up, and they look great in store displays."
Promising reception
Zeus Juice freezer pops already have been shipped to Massachusetts and Ohio. Orders also are being filled for markets in Florida, Texas, Tennessee, and Missouri, with other market areas expected to follow soon. They are sold in two flavors—blue raspberry and strawberry—as singles and as 6-packs. Average retail price of the 6-pack is $5.99. More flavor varieties are scheduled to be introduced during Fall 2007.
Sciucco reports, "Retailer and consumer response has been fabulous. People love Zeus Juice. It tastes great."
Companies in this article
Videos from Matrix Packaging Machinery