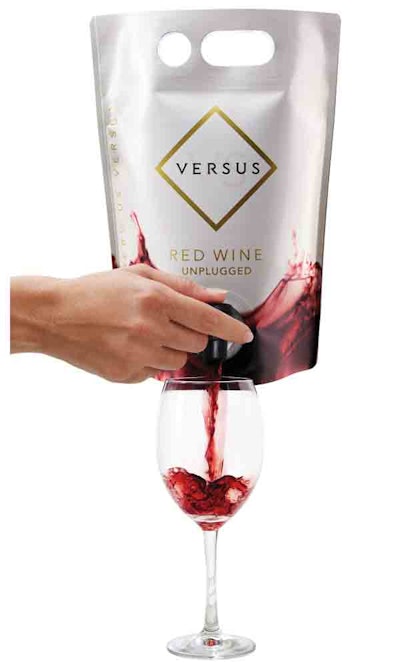 Saflite Packaging
The Company of Wine People's Web site touts convenience as one of the pouch's key attributes. It's easy to open and pour, cools quickly, is lightweight, reseals easily, and keeps wine fresh for a month after opening. Sustainability is also a driver, says the winery. It claims that, compared to two 750-mL glass bottles, a single pouch's carbon footprint is 80% smaller and represents 90% less waste in a landfill.
But convenience and sustainability aside, innovation for innovation's sake also seems to have been a motivator. As Bennie van Rensburg, The Company of Wine People's brand and business development manager, tells Packaging and Print Media, "The wine industry gets a lot of flack for not being innovative."
Saflite makes the pouch from a three-layer lamination supplied by its Astrapak affiliate, Cape Wrappers (www.capewrappers.com). The structure, described as 12-micron polyester/12-micron metallized polyester/150-micron linear low-density polyethylene, provides a nine-month shelf life. The clear polyester layer is reverse-printed.
(
www.astrapak.co.za
) of South Africa, a division of Astrapak Flexibles, developed the pack in concert with its first commercial user, The Company of Wine People. That South African firm packs Versus Unplugged—white, red, and rose—in the 2-L pouch and sells it at supermarkets in South Africa. The winery has exclusive rights to the pouch for six months. Suggested retail price was not available at press time, nor was information on how the pouch is filled.
Companies in this article