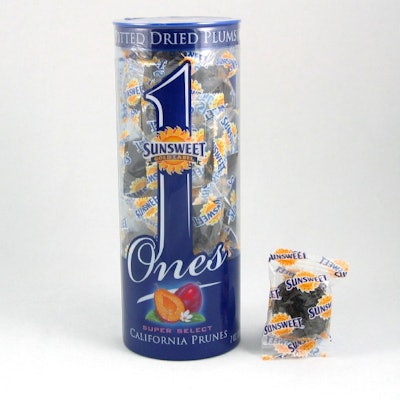 With the debut of Sunsweet Ones, prunes have been reinvented as a convenient on-the-go healthy snack: individually wrapped and packed in attractive 7-oz printed polyvinyl chloride canisters.

The new innovative packaging is Sunsweet's way to help consumers overcome the stigma of eating prunes, says Sunsweet new product manager Sabrina Wootton. "Prunes are not just for grandparents. The Ones canister fits into backpacks, into car cupholders, and because of its upscale look, you can even leave the canister out on your countertop or desk. Plus, the little individually wrapped prunes can go anywhere, purse, pocket, lunch bag."

The main goals for Ones were to provide a convenient healthy snack to consumers, increase household penetration, and bring new consumers into the market, Wootton says.

The 7 3/8"-H, 2 5/8"-diameter canisters feature six-color print. A clear PVC insert seals the bottom, and a blue cap printed in three colors friction-fits into the top. The canisters are sealed with a clear tamper-evident band that looks to be made of PVC.

Packed inside are prunes, individually wrapped in 48-ga PET/80-ga oriented polypropylene film, Wootton says. It was important that the film provide a proper oxygen transmission rate (OTR) and a good moisture barrier, she adds.

Wrapped at more than 250 prunes/min

The prunes are wrapped at 250-300/min using a Delta Systems (www.delta-systems-inc.com) Eagle Flow Wrapper installed earlier this year at Sunsweet Growers Inc.'s production plant in Yuba City, CA. The line includes a Delta servo-drive low-pressure "Smart Belt" infeed that singulates the prunes prior to wrapping.

Wootton says the film structure was a big challenge throughout the development process. "For a while, the individual Ones packages were so well-sealed, they were hard to open. We experimented with different types of serrated [film-cutoff] blades to alleviate this problem. After a few iterations, we not only improved the serration, but added a tear notch."

Currently the canisters are filled manually, but operations' plans to transition to automatic filling using plunger-equipped machinery is in progress. Sunsweet adapted an existing pouch line for this task. "Manual filling allows our Quality Assurance department to check each prune packed into the canister," Wootton says.

Sunsweet Ones retail for $2.35 per canister.

Sunsweet is currently conducting a test market in Phoenix for School Fruit, a similar canister filled with individually wrapped apricots and dried plums.


Companies in this article