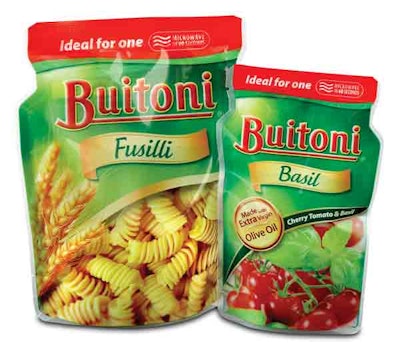 FPA judges noted that, in the switch from jars to high-barrier stand-up pouches, Buitoni used shaped-pouch technology that requires careful design, converting, and print registration. In the face of these challenges, Buitoni and CLP were able to retain the familiar contours and graphics of the jar-packed sauces, and also introduced retort-pouched, pre-cooked pastas that may be stored at ambient temperature, reducing handling costs and logistical challenges.
The high-barrier pouches are made of PET/BONYL (biaxially oriented nylon)/PP layers which deliver good stiffness, puncture-resistance, durability, and oxygen barrier. These pouches are constructed using specialized shaped-pouch-making machinery from Totani (www.totaniamerica.com) and are gravure-printed on the reverse side of the PET layer.
Retort processing of product in the pouches is faster than in the jars, thereby minimizing heat processing time and contributing to the protection of delicate product flavors/textures. Both the shelf-stable pastas and sauces are microwaveable in about a minute in their packaging that features easy-open laser scores and lightweight construction to enhance consumer convenience. Buitoni introduced the new packaging in the UK in June 2006, and it has been well received by consumers.
CLP points out that the cost of the preprinted sauce pouch is less than the cost of the sauce jar, closure, and label. The pouches also are lighter in weight and more compact, reducing transportation and storage costs.