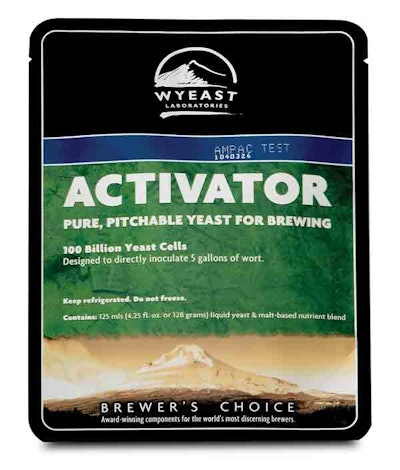 FPA judges describe the Smack Pack system as "the first retorted pouch-within-a-pouch liquid yeast package for beer- and wine-making."
The heat-tolerant, flex-crack-resistant pouches supplied by Ampac incorporate a packaging structure made from a proprietary high-barrier adhesive lamination that provides protection from both oxygen and ultraviolet (UV) light. Jenny Logsdon, GM of Wyeast Labs, explains, "Because oxygen stimulates yeast metabolism, our packaging must protect our yeast from exposure. The yeast needs to rest in a dormant state so that it does not metabolize in the package, which would deplete the energy it needs for fermentation. Also, if the yeast is exposed to light, you will get cell mutation, which results in cell death and lower cell counts. The shelf life of our liquid yeast is up to six months when refrigerated at the appropriate temperature."
In typical retort pouch packaging applications, the product is filled and sealed in the pouch and then retort heated (at approximately 250º F) to achieve commercial sterility and non-refrigerated shelf life. But due to the sensitive nature of the liquid yeasts, Wyeast has developed an alternative procedure whereby the empty pouch is retort sterilized prior to clean-room filling and sealing. Says Logsdon, "We actually retort the pouch before filling it because we want a sterile environment in which to put the yeast."
The Smack Pack features a smaller pouch (containing liquid malt nutrient base) within the larger pouch. When the consumer is ready to activate the yeast, he or she can locate the smaller pouch by feel within the larger yeast pouch and move the inner packet to the corner of the sealed larger pouch. The consumer then places the pouch in the palm of the hand and firmly smacks the area where the packet is located to break the inner nutrient packet, initiating yeast metabolism.
Activation of the yeast culture gives off carbon dioxide, expanding the pouch. The gusseted bottom panel of the pouch structure, which is collapsed flat prior to activation, expands as the internal pressure increases. The back panel printing instructs the brewer/vintner to allow the package to incubate and swell for three hours or more at 70-75º F. So the seals on the stand-up pouch have to withstand internal pressure without rupturing.
The pouches are reverse-printed in six-color rotogravure. Special inks are used to withstand retort temperatures. Instructions on the packaging urge the consumer to "use a sanitizing solution to sanitize the packaging before opening." This helps prevent contamination of the yeast as it is transferred to the fermentation container.
Wyeast also likes the cost-effective, high-definition print job. Logsdon says, "The execution of the printing and graphics was important to us. We recently redesigned our packaging, and we wanted to make sure that we partnered with a retort pouch manufacturer that could give us the desired visual impact."
Companies in this article