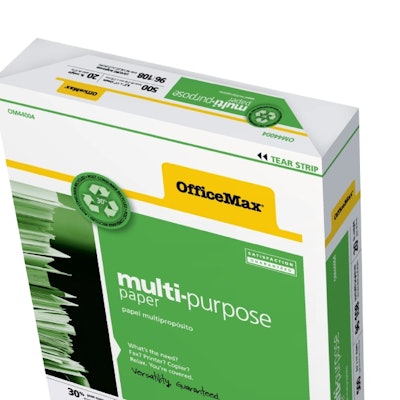 While consumers crave convenience, marketers want to keep their branding front and center with consumers even after a package is opened. OfficeMax's reams of paper packaged in film wrap from Coating Excellence Intl. (CEI) (www.coating-excellence.com) answers the needs of both groups. The film wrap offers easy opening via CleanStrip™, which permits a clean tear of the package akin to opening a pack of gum.
"OfficeMax is always exploring new ways to deliver enhanced ease of use to its customers," says Kimberly Nower, OfficeMax'sretail category manager, Paper. "With the new tear strip that we have added to OfficeMax branded premium papers as part of the packaging and brand enhancement process, consumers will now be able to access the reams of paper more quickly and easily. It will also allow for the wrapping to stay in place, which makes for better paper storage."
OfficeMax moved into the easy-open packs in late 2005. The CleanStrip is used on 26 items including reams of 8 1/2 x 11" as well as legal and 11 x 17" paper.
CEI provides the converted ream wrap in rollstock to Boise Paper Div., Boise Cascade (www.bc.com) with the CleanStrip already on. CEI converts the wrap using 120-ga biaxially-oriented polypropylene from the Films Div. of ExxonMobil Chemical (www.oppfilms.com) that CEI flexo-prints in four colors. CEI applies the pressure-sensitive 3/8"-wide CleanStrip, supplied by Payne Worldwide (www.payne-worldwide.com), to the BOPP substrate. Boise Paper packages the reams for OfficeMax.

Boise Paper's Lisa Vail says, "Boise Paper works closely with its partners to develop new and innovative paper products and packaging. We felt that the new tear-strip feature would be a great fit for OfficeMax and its customer base. We are proud to partner with OfficeMax and be the first to market with this advancement for OfficeMax's line of branded premium papers."


Companies in this article