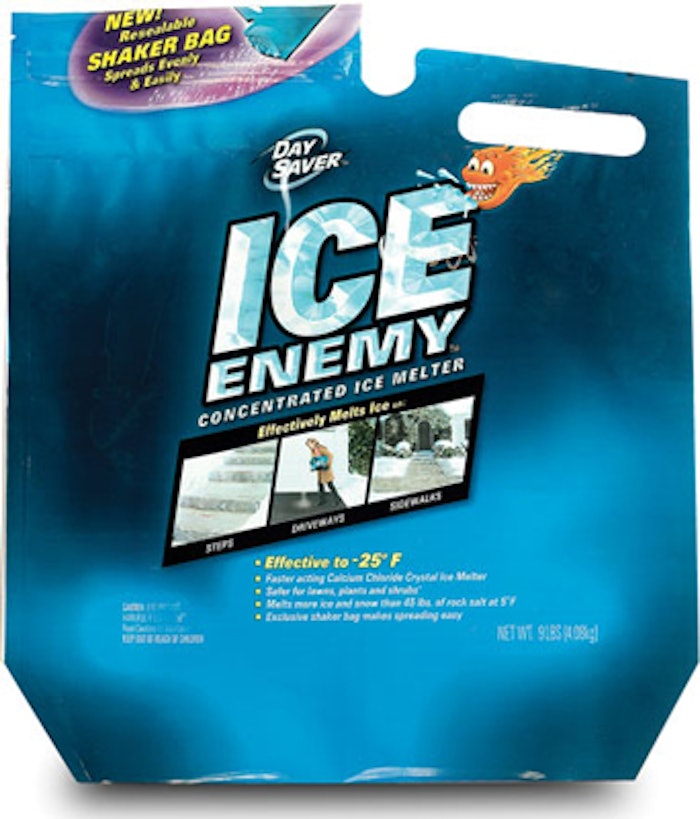 As shown in the accompanying photo, the package—winner of a Gold Award for Packaging Excellence—is a flexible pouch with die-cuts that make it look like a plastic jug.
As you look at the front of the image of the pack, there's a handle cut into the upper-right corner. A resealable zipper at the top left includes printed copy that reads, "New! Resealable shaker bag spreads evenly and easily." Beneath the product's name are three usage images, with bullet point copy beneath the images providing additional user benefits.
"We're always evaluating our strategy and product categories," says Scott Wolff, the company's director of marketing. "We sold another brand of melter in a milk carton-type format that we discontinued about three years ago. So we're looking at this market," he adds. DampRid is best known for making a variety of products designed to absorb moisture, eliminate odors and reduce allergens.
In looking for a package for its potential ice melter introduction, DampRid turned to FlexPack USA (www.flexpackusa.com), the marketing arm for converter Nina Plastics (www.ninaplastics.com). Flex Pack is a "current supplier partner of ours for other flexible packaging products," says Wolff. "We wanted to make the pouch easy for consumers to handle and use."
The FPA award-winning premade pouch is 6 mils thick, which helps it support the heavy product weight. The structure comprises an outer layer of polyester from Mitsubishi (www.m-petfilm.com) that's reverse-printed flexo in eight colors. It's adhesive-laminated to a coextruded blend of low- and linear-low-density polyethylene made by Nina Plastics. Nina also applies inline the LDPE zipper. The pouch measures 13"x13" with a 4" bottom gusset.
When the zipper is opened, users see a mesh-like membrane with ¼" holes spaced in ½" increments that allow them to evenly dispense or shake out the calcium chloride, which Wolff describes as "much easier on plants and concrete than rock salt or sodium chloride." The LDPE membrane is heat-sealed to the inside of the pouch, just beneath the zipper. "We want to make the pouch easy for consumers to handle and use. And I'm not aware of anybody else with this kind of package in this category," states Wolff. —Jim Butschli
Companies in this article