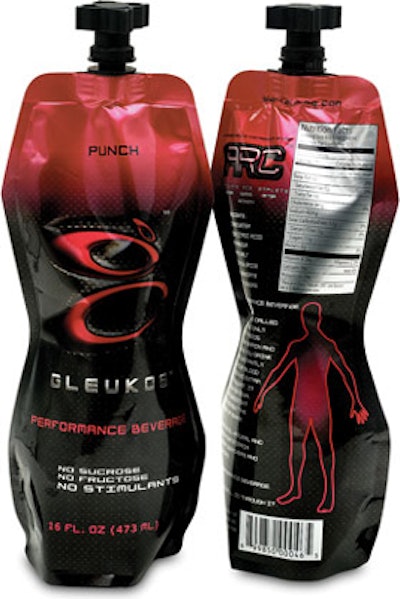 Gleukos pouch sports hourglass profile
Gleukos performance beverage isn't your dad's sports drink, it's a whole new ballgame in formulation and packaging.
For starters, the sports beverages from Portland, OR-based Gleukos Laboratories come in a stand-up pouch that breaks out of the plastic bottle mold. The pouch is 80% lighter and takes up half the volume of its rigid competitors. Furthermore, the pouches offer a striking profile via a pinched-in waist.
Propelled by an FPA Gold Award for Printing Achievement, the 16-oz pouch also earned Highest Achievement honors in the Packaging Excellence category—the FPA's biggest prize.
With a formulation based on easy-to-digest glucose, hence the name, the pouched drinks debuted in August 2005 in lemon and punch flavors for $2.25 at 7-Eleven Stores.
"We wanted a distinct, new shape for Gleukos," says founder Mark Jensen. "The package had to be functional and have a great appearance, and we also wanted a great hand feel."
The pouch is provided by privately-held Ampac Flexibles LLC (wwwampaconline.com), which produces the packaging at operations it acquired from Kapak Corp. in 2005.
The vendor declines to provide structure details, saying only that it's a "proprietary custom lamination designed for beverages." A polyester layer is reverse-printed in five colors using an eight-color rotogravure press.
"Graphics are everything," says Jensen. "The ability for the package to showcase what is inside the pouch is an important element."
Like any champion, Gleukos had to overcome several hurdles.
The pouch features Ampac Flexibles' Smart Spout™ fitment-valve combination for a spill- and leak-proof package. The dispensing assembly features a three-piece design that consists of a polyethylene base fitment with a spout and silicone valve, topped by Seaquist Closures (www.seaquistclosures.com) EZ Turn Cap—a tamper-evident, easy-to-turn closure. The cap's enlarged, ergonomic design makes it easy to grasp, turn, and access the liquid.
It also made insertion of the Smart Spout problematic because the sloping shoulder flares in, leaving little space for the spout. Ampac Flexibles modified its German-made spout inserter to provide the precision needed. The seal is created by applying a heat source on the two opposite sides of the material/base assembly.
It was also critical that the stand-up pouches could be filled at commercially acceptable speeds. Ampac's partnership with The Jel Sert Company (www.jelsert.com), a contract packager and food manufacturer based in West Chicago, IL, made that happen. Filling rates are up to 200 pouches/min.
Consumers have also responded well to this winning package, according to Gleukos chief executive officer Patrick O'Neill. "Feedback from consumers has been really positive. The pouch style of packaging in a 16-oz size is a differentiator that drives a lot of consumer interest." The company is also looked to deliver a powdered version this year with the help of Ampac Flexibles. —Rick Lingle
Companies in this article