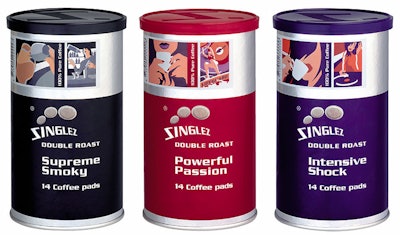 Bon Beanies, an independent marketing company founded by Ahold Coffee Co., believes the distinctive packaging and unusual product flavors give the brand a "hip" image that a younger audience will be willing to pay more for at the premium end of the market.
Colorful composite cans hold 14 pads each and contrast competitors' flexible pouches. Weidenhammer Packaging Group supplies the cans as well as the injection-molded, polyethylene snap-on cap.
The paperboard cans include a laminate of polyethylene and foil that lengthens shelf life. A special membrane and one-way value enable the coffee to "breathe" through the can, and the snap-on cap covers the sealing membrane to keep the contents fresh.
Paul van Bruekelen, Bon Beanies marketing and sales manager, explains that the packaging pizzazz presents the coffee as a lifestyle brand "focusing on the individual instead of using traditional positions with a social setting." The cans are offset-printed on a top layer of metalized paper in lavender, red, to signify the double-roasted coffee's Intense Shock, Powerful Flame, and Supreme Smoky flavor varieties, respectively.
Ahold cites several additional benefits of the package. First, its compact size (51¼4" long and 23¼4" in diameter) stores and handles easily in the home. Second, the stacked pads assure hygienic removal of the product from the container. Third, the festive-designed can doubles as a home-décor item.
Companies in this article