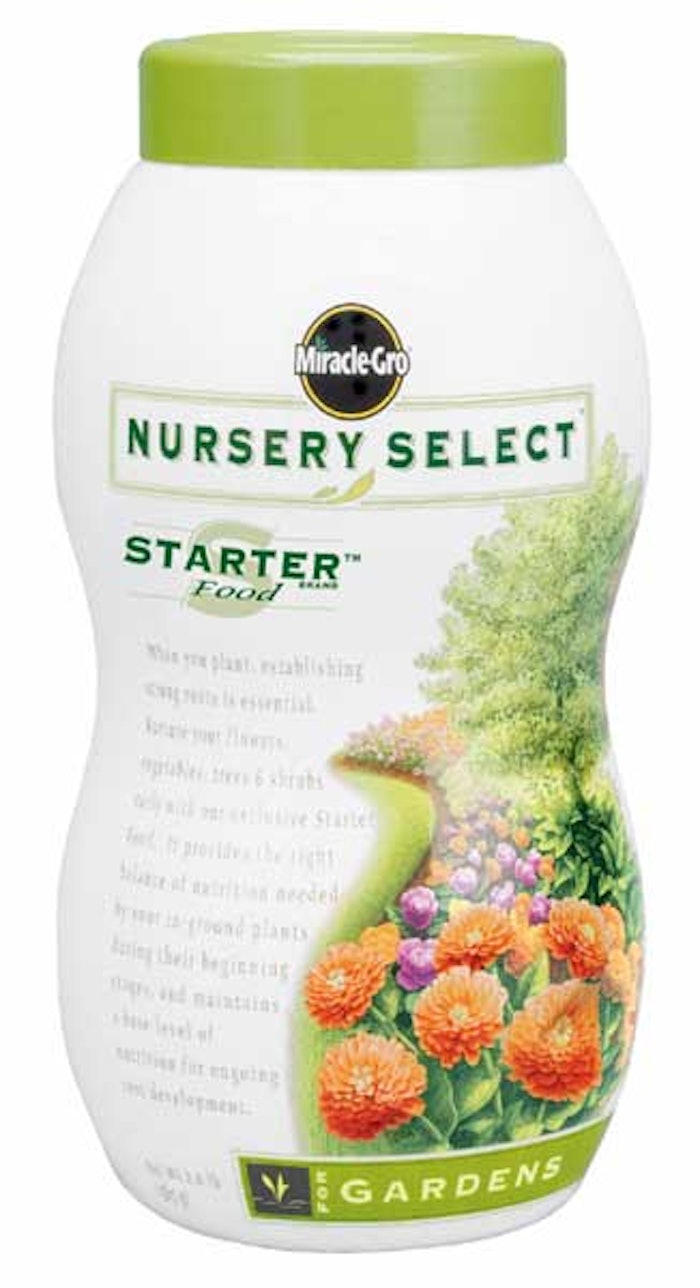 The Scotts Co. has a lush portfolio of iconic trademarks in the lawn and garden field. Miracle-Gro is certainly one, and this year that brand is adding a new line, Nursery Select, a complete line of plant care products that's sold only to independent garden centers.
"We know that female consumers are going to these independent garden centers looking for gardening advice, and that's the kind of expertise these retailers are well positioned to provide," says Keri DeVelvis, assistant brand manager for Nursery Select at company headquarters in Marysville, OH. "Our research showed that there was a large segment of these female consumers who didn't know a great deal about how to achieve success in their gardens once they got the plants home. So that's why we created our first gardening 'system.'"
The system includes two ranges of products, one for in-ground gardening and one for plants grown in containers. In all, each type of planting mix, starter food, and growth food comes in three containers in two color schemes, all designed by Source, Inc. Aside from the soils in flexible 1-cu' bags, there are four rigid containers decorated with shrink-sleeve labels from Fort Dearborn.
The smaller hourglass bottles for the starter food are custom designed in polypropylene by Scotts and molder Silgan Plastics. "Silgan supplies the custom-tinted caps with a dispensing fitment that they typically use for spice containers," says George Hill, manager of rigid packaging in Scotts' R&D department. "The fitment is supplied in the closure so that it snaps onto the container finish when the cap is torqued down." These containers hold time-release granular products
The larger pails for the dry growth food in powder form come from IPL. They're also injection-molded in PP. The powder is packed into polyethylene bags inside the pails. Container lids are custom as their colors match the color scheme: sage green for in-ground gardens, terra cotta for containers. Regardless of whether granular or powder, Hill says it's vital to protect the product from moisture.
The labels for the rigid containers are all 2-mil polyvinyl chloride, reverse-printed flexo by Fort Dearborn in nine colors, including four process colors. "Shrink labels can be used with a wide variety of sizes and shapes," says Mike Grogan, director of sales for Fort Dearborn. "That's why Scotts has selected them."
Different approach
The overall concept for Nursery Select developed with input from a nursery advisory council that worked with Scotts on the line. "We got a lot of feedback from them on the brand perspective, container durability, and the products themselves," DeVelvis reports. "The council liked the packaging and the system approach."
Scotts also felt this new brand was the perfect launch pad for a line of premium annual plants, grown in one-quart grower pots. The grower container is a white recycled tapered container of polyvinyl chloride from ProCal. Like the other rigid containers, it, too, is decorated with a 2-mil PVC label from Fort Dearborn.
"This brings a lot of color to a container that typically doesn't have color," Grogan pointed out. To differentiate the plants from the plant food products, the background for this container is yellow, and the graphic design incorporates the graphics from both the in-ground and container products.
Different consumer
Scotts designed the line of products to appeal to a female suburban shopper who is demographically a bit younger than a typical Miracle-Gro consumer. "For Nursery Select, we're targeting women between 35 and 55, who are very busy and interested in gardening results," DeVelvis says. "Her focus is not about the gardening process, it's about a beautiful end result. We worked with an agency to collect data on just what kind of people were typically shopping at these nurseries."
Creating consistent color in the packaging is what drove Scotts toward shrink labels. "With the shrink label, we get vibrant colors that are consistent, no matter the size or shape of the package," DeVelvis says. "And we felt this would have the look of an upscale brand."
The label copy is geared more toward lifestyle, rather than on the product, she points out. "We found that our target customer wasn't much concerned about the technical information like the percentage of nitrogen, but rather wanted to know how much to use and what results to expect," DeVelvis explains.
Outdoor sales rack
Since Nursery Select is sold as a system, it's important to communicate well about the products at the point of sale. Thus, the importance of the display rack from CorrFlex, now a unit of Sonoco Products.
"This rack was custom designed for Nursery Select products so that they could be merchandised outdoors at the nursery," DeVelvis says. "We wanted the product line positioned near the plants."
The rack is made of galvanized steel that is powder-coated for an improved appearance. It holds two shelves of the starter food and two shelves for the pails of the growth food. The rack is shipped almost fully assembled, except for the header panel that's affixed at retail with wing nuts. All of the printed informational panels are made of polystyrene to be weather- and fade-resistant.
Similarly, the potting media are also in two sizes of weather- and fade-resistant gusseted and flat bags in 10-qt and 1 cu' sizes. The bottom-gusseted bags come from Banner Packaging, while the larger flat bags are supplied by Trinity Packaging, says Arden Haynes, who develops flexible packaging for Miracle-Gro.
Sell-in for Nursery Select began last fall, DeVelvis says. "Overall, the reaction has been very positive," she says, "We're already looking forward to next year."
Companies in this article