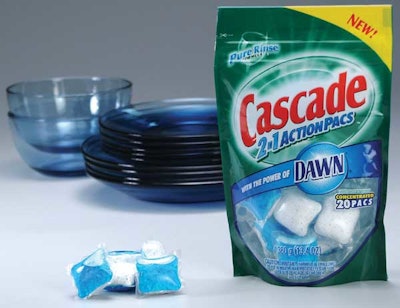 Cascade 2-in-1 ActionPacs are two-compartment pouches containing both a powdered Cascade detergent and a liquid Dawn grease fighter in a single unit.
Although details are sketchy Monosol provides rollstock film to a plant in the United States where production began in May '03 and market introduction followed in August. The customized cast copolymer polyvinyl alcohol (PVOH) film is based on Monosol's M-8630 although it's modified to meet P&G's exact specifications.
Once the packets are formed and filled 20 are loaded into a secondary stand-up pouch that features a front window. This pouch which protects the packets from moisture in distribution is different from anything consumers are offered in this product category. "It allows the product to stand out visibly on the shelf. This is a great example where design was incorporated into all aspects of the product including the packaging" says a spokeswoman.
Although premeasured unit-dose products have been available as tablets or gels in water-soluble film for dishwashers these ActionPacs are the first to combine the power of a powdered detergent with a grease-cutting liquid.
Three years ago Worldwide Technology Partners announced its Dual Pouch Pak using film from Monosol. Its two-compartment pouches were manufactured in a continuous process from a single web of PVOH film. The company also performs contract packaging.
The package won a Gold Award in the DuPont competition.
See the story that goes with this sidebar: 2004 DuPont Award Winners
Companies in this article
Videos from Universal Labeling Systems, Inc.