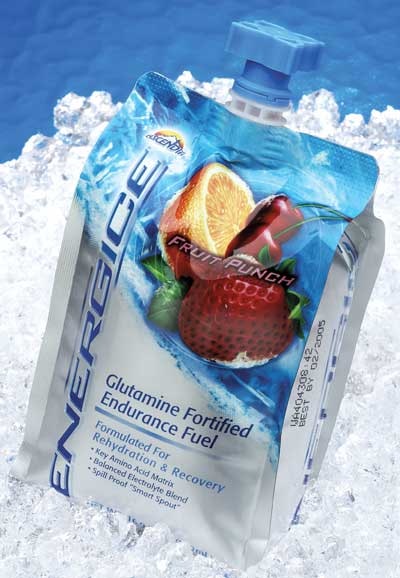 Jel Sert, a West Chicago, IL-based manufacturer of national brands such as FlavorAid, Mondo Fruit Squeezers, and Wyler's, decided to try its hand at the athletic beverage market. So it released its newest brand, Energice, to GNC stores just less than a year ago.
However, Energice doesn't look like the established "rehydration beverages," most of which are in clear PET bottles. Energice is in unique spouted pouches from Kapak. To fill this unusual package, Jel Sert installed an innovative continuous-motion filler/capper from Hensen Packaging Concept that has the potential of filling up to 250 pouches/min.
"This is all very, very new for us," says Matthew Ingemi, vp of consumer healthcare for Jel Sert Co. "This is the newest piece of machinery in the plant. And it's our newest product in the newest package. It's quite novel."
Topped with a choke-proof closure from Seaquist, the Energice beverage package is decorated with graphics by design firm Maddock Douglas. The 500-mL standup, side-gusset pouches, formed at Kapak facilities, are constructed of a polyester/foil laminate.
"There's no straw that comes down. There's simply a membrane that prevents the liquid from coming out when you turn it over, but when you squeeze it, a stream of fluid comes out," Ingemi says. "In test markets, we found some people that said they liked the 'gulpability' of a PET bottle, but I guarantee that if you squeeze the pouch, you'll get more than you ever could out of a bottle. This is a patented fitment, so the design is fairly specific. That really separates it from any other straw-inserted pouch or shaped reclosable pouch out there."
Jel Sert is also a contract packager. Currently, the company is involved in what Ingemi calls a "strategic alliance" with Hydrade Beverage Co., filling similar pouches with the Hydrade Rehydration Beverage.
"We recognize that there is a ground swell in marketing groups and product development groups to explore this type of alternative packaging concept," Ingemi says. "What we're going to try and do now is to harvest some of those opportunities. We're hoping brand managers and potential sponsor companies see that this supply chain is set up in the United States, that they don't have to outsource overseas, that we're pretty much a one-stop-shop."
The mechanics
Pouches arrive from Kapak suspended by the fitment neck from rails, ready to be loaded directly into the Hensen machine. For now, Kapak also heat-seals the Seaquist fitments into the top of each pouch. Ingemi says that eventually Jel Sert will insert the firment into the pouches in their facility.
An operator feeds each rail onto a belt at one end of the Hensen machine. The rails with pouches suspended are conveyed to the feed station. One-by-one, a starwheel grabs each pouch from the rail by the neck, pushing an already filled pouch to a conveyor below.
The unfilled pouches begin rotating around a turret. The fill tube descends, filling the pouch. As soon as the pouch is filled, the starwheel rotates the pouch to a capping mechanism that places the cap over the fitment and torques it down. Filled and capped pouches make one revolution around the turret and are dropped onto the conveyor to make room for a new, empty pouch.
"It's excellent, truly state-of-the-art," Ingemi says. "The principle of continuous motion filling for spouted pouches is cutting edge. Everything just fell in place. At the end of the day, we really did believe that this spouted pouch represented something truly significant for the beverage community, and we wanted to be part of it."
The room that houses the filling machine was built to accommodate a pharmaceutical product should the opportunity to contract package a pharmaceutical arise. For now, the separate room "just makes a nice, very clean environment for the filler," Ingemi says.
A conveyor runs out of the filling room to a Mettler Toledo checkweigher. If the pouch weight isn't right, it's kicked off the line to a container off the conveyor. From the checkweigher, pouches are conveyed to a Videojet coder. After pouches are date-coded, they are hand packed into cases that are sealed by an Interpack carton sealer from Intertape Polymer Group. Cartons are conveyed past another Videojet coder before they are hand palletized and shipped.
"It's a fairly simple product flow," Ingemi says. "We intentionally made it that way. It gives us the greatest degree of flexibility. The machine can do up to 250 pouches per minute, but right now we're probably running at about 'half speed' as we continue through our start-up curve and optimize our downstream packaging operation. We're not yet at capacity, but we will be."
For more on the graphic design of the Energice line, see: packworld.com/go/x126
Companies in this article
Videos from Intertape Polymer Group (IPG)
Videos from Videojet Technologies Inc.