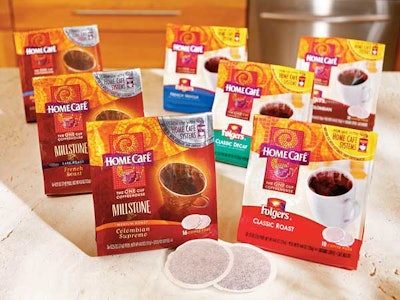 Made of a proprietary film/foil structure, the bags are adhesive-laminated by Fres-Co System USA.
LPK created the colorful retail bag design (below) with the consistent placement of a prominent orange mosaic at the top of the package to identify the Home Café line of single-cup coffees. The autumnal color palette, organic shapes, and dimensional textures reinforce the feeling of a neighborhood café experience at home, according to the design firm.
In May, Procter & Gamble introduced Home Café, a single-cup coffee brewing system, in collaboration with appliance makers Applica (Black & Decker), Krups, Sunbeam (Mr. Coffee), and Hamilton Beach.
Black & Decker became the first appliance maker to sell the P&G coffee through this "lock-and-key system." Krups, Mr. Coffee, and Hamilton Beach were expected to follow suit this summer at mass merchandise outlets, specialty stores, and supermarkets nationwide. Suggested retail price is $59.99 for a "starter kit" that includes the appliance and a package with minimal graphics that includes eight individually wrapped coffee "pods." Each circular pod is used to make one cup of coffee.
Once the consumer has used these "starter" pods, he or she may purchase the retail bags that contain 14 to 18 pods. These bags are supplied to P&G in rollstock form for forming, filling, and sealing. —JB
Companies in this article