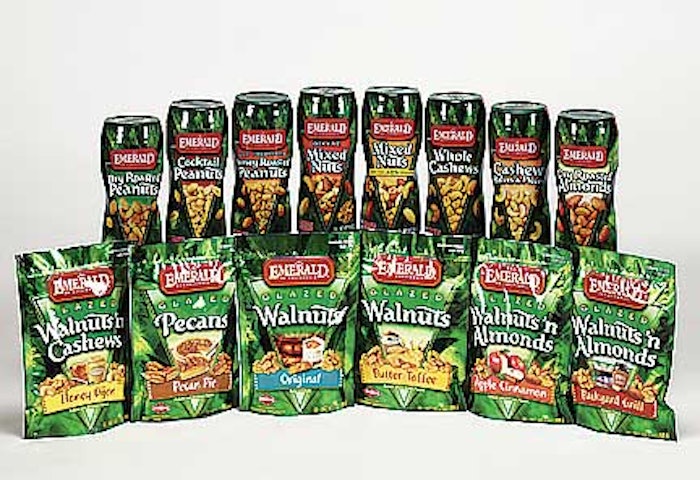 Eight products will sell for $2.59-$4.99 in emerald green canisters containing 10 to 12 oz, while six varieties will retail in a 7-oz, resealable stand-up pouch for $2.99. All 14 will also be available for $2-$2.50 in 4.5-oz "mini" canisters (not shown) targeted to convenience stores.
Owens-Illinois blow-molds the canisters, which have a high-density polyethylene/ethylene vinyl alcohol multilayer construction. The emerald green container fits into auto cup holders and into backpacks. Two side grips make it easy to hold for on-the-go consumers. Consumers remove an injection-molded polypropylene cap from Berry Plastics to reveal a heat-sealed, peelable lidding membrane from Savoye Packaging. The liner structure is polyester/metallized polyester/linear low-density PE.
A full-body, oriented polystyrene shrink-sleeve label from American Fuji Seal "was utilized for the custom canister design, and for shelf presentation requirements," says Vicki Zeigler, Diamond's public relations manager. The 2-mil label is printed gravure in 10 colors. Artwork was provided by FutureBrand, both for the rigid containers and for the stand-up pouches from Deluxe Packages. The pouch structure includes 48-ga polyester that's reverse-flexo-printed in eight colors/48-ga metallized polyester/3 mils LLDPE.
Packages are filled at Diamond's Stockton, CA, facility. While the pouches are filled on existing equipment, a new line was installed to pack the canisters. Packaging Technologies served as the integrator for the line. It also supplied a filler and capper. A Heat and Control Ishida scale feeds product to the filler. An American Fuji Seal labeler applies the shrink-sleeve label.
"Diamond of California has been around since 1912, and our consumers clearly define Diamond as a culinary and in-shell nut company," says Zeigler. "We wanted to create a separate brand for our snack nut products that are targeting a younger, broader consumer demographic."
After conducting consumer research, products were test-marketed in more than 2ꯠ supermarkets in California early this year. Strong acceptance led to the nationwide launch.
Companies in this article