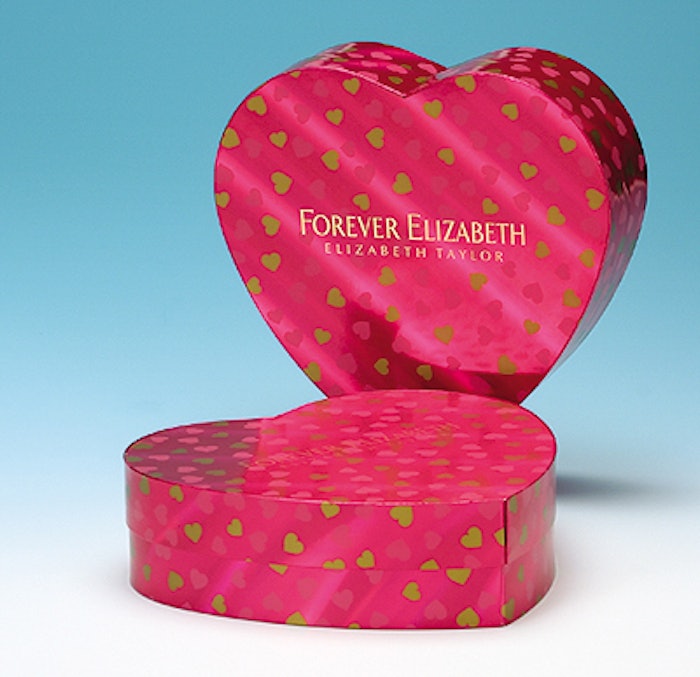 Packages displaying holograms won a number of awards in the annual competition of the Assn. of Industrial Metallizers, Coaters, and Laminators (Ft. Mill, SC). But not all of the holograms were used specifically for their eye-catching beauty. One also contributed insulation value for frozen food shipments. Other winners showed unusual applications or converter skills.
The Peter Rigney Product of the Year Award went to Unifoil (Fairfield, NJ) for its part in producing a heart-shaped set-up box (1) for Forever Elizabeth fragrance, marketed by Elizabeth Arden, Miami Lakes, FL. It especially impressed the judges for its beautiful execution through many converting steps.
Using a metallized polyester from CFC Intl. (Chicago, IL), Unifoil embosses a custom-designed, "shimless" (i.e., seamless) 45° diagonal double-rainbow holographic pattern. The film is then laminated to 24-pt SBS board from International Paper (Memphis, TN) to form the top and base of the container. Custom repeats and custom diagonal patterns were used to eliminate any shim lines or seams. The film is also laminated to 12-pt board to form the rims for the container and lid. The rims are folded over to achieve a seamless rim with a duplex effect.
Another substrate, a 50-ga polyester film, is also metallized by CFC and converted by Unifoil in gold color. It's applied to the inside of the box and lid to hide glue seams and serve as a background for the transparent thermoformed polyvinyl chloride tray that holds the container of the fragrance. The mirror-like appearance of the gold interior added an extra level of elegance to the package, judges said.
Hub Folding Box (Mansfield, MA) assisted with the package design and was the fabricator of the complex container. Hub also served as the contract packager for the product.
Hologram for fish shipper
Although newspapers have long been regarded as "fish wrap," the Honolulu Fish Co., Honolulu, HI, has definitely ratcheted up its fish packaging (2). This processor of high-quality fish for premium restaurants around the world now ships its expensive products inside a corrugated container fully wrapped in a hologram.
Although it may not be the largest hologram application, this package may be the first time a corrugated box has been totally wrapped with holographic paper. The package won the marketing award in the food category for Proma Technologies (Franklin, MA). However, like the fragrance package, several other suppliers were involved in the execution of this container.
In fact, the hologram design began with Intl. Holographic Paper, which became ITW Holographics and is now known as ITW Foilmark (Newburyport, MA), says Phil Maniscalco, who shepherded the project through the first two companies and now is business development manager for Proma Technologies. He worked with the Honolulu plant of Weyerhaeuser (Tacoma, WA), the company that eventually produced the box.
"I had been trying to gain Honolulu Fish's corrugated business for years when they showed me a corrugated box covered with aluminum foil and asked us if we could make that type of container," recalls Jack Crowther of Weyerhaeuser on the island. "We knew we couldn't work with aluminum foil but thought we might find other options." Earlier, a sister company had made by hand some corrugated boxes for Ben & Jerry's to ship ice cream, and that led Crowther to Proma.
In the end, the ITW company developed the master hologram with its in-house creative team. It was produced in its iSCAN large-format, dot-matrix laser process. Once approved, the master went to Proma for embossing and metallizing onto its 70# HoloPRISM paper in sheet form.
This is shipped to Weyerhaeuser where it's laminated to a liner of 29 ECT corrugated on a machine by Automatan (Plover, WI), using what Crowther calls a "specialty adhesive." He admits that the lamination is the most difficult part of creating this container, and Weyerhaeuser has worked closely with Proma to prevent curling of the metallized paper.
Because the two (27" and 32") containers are so large, the converter literally laminates the holographic paper to the corrugated box in two pieces. After die-cutting and scoring, the two box halves are joined together in a gluing system so that each box has two manufacturer's joints.
"We can use a modest ECT corrugated because Honolulu Fish uses a foam box inside the package," Crowther says. In addition, the skin-packed fish is kept cold via a "fish blanket," a quilted foil bag with freezer gel packs inside. In fact, Crowther says, the fish company says that the new holographic box keeps the product from 5° to 7°F cooler than a standard corrugated box over a three-day period shipping to New York. That's because of the metallized surface's ability to refract light away, Maniscalco adds.
Nonetheless, Maniscalco and Crowther admit that the temperature protection wasn't as important to Honolulu Fish as the distinctive appearance of the package to its shipper, Federal Express, and to customers.
Lighting the way
Another marketing award, this time in the nonfood category, went to Proma Technologies for a hologram for Emissive Energy's Inova Microlight blister packs (3).
For this pack, Emissive selected Proma's 80# metallized holographic paper that's embossed with "light-beam" graphics, designed in-house, that show how the product looks in use while the rainbows hologram catches attention. Proma supplies the holographic paper to Challenge Printing (Eden Prairie, MN) and two other converters. These converters print the holographic paperstock with a double hit of white and four-color process offset printing plus coating, all done on a 40" Heidelberg press in-line, says Denny Popp of Challenge.
"To get the opacity of the white in-line, you need to use ultraviolet curing," Popp says. "Plus there is a different color package for each of the four colors of the flashlights. So each of the blister inserts is matched to the light of the product, but only subtly in the V-shape of the card design." What makes this a "challenge" is that the converter has to match the order of colors, despite the fact they print the cards 15-up on the press.
Not geared for checkouts
Although it's turned out that way, company president Jean Wolfe says the package really wasn't designed to be merchandised from checkout counters. "That just happened when we developed the trays that permit these packages to be merchandised vertically," she says. "Do we appreciate that checkout counter real estate? Absolutely!" she points out.
But she adds that the tray was really developed for retailers that might not have peghooks to hang the package. "But whether sold from pegs or from a shelf, the hologram works for us and really stands out. The package simply works."
Inova lights that retail for $9.99 are not destined for mass merchandisers. Rather, the company sells to and through a more upscale clientele, including Eddie Bauer (with its own package design), Discovery stores, Comp USA, and Fry's Electronics. "We've had some retailers that have sold our product and then shifted to cheaper imports," Wolfe says. "Often, they come back to us within a few months because of the quality of the product and its packaging."
The Inova Microlight packs have been marketed for about three years, though with some modest design changes. "Right now, we're looking at redesigning our entire product line using holographic paper because it works so well in gaining attention. And when you have a lot of competitors in your field, packaging makes a huge difference."
E.T. elevates two
A collector's edition DVD case (4) for the re-release of the Universal Pictures movie E.T. won a technical award in the nonfood category for two converters, Hazen Paper (Holyoke, MA) and Unifoil. Both companies were converters of the acrylic-coated, 1-mil metallized polyester that is laminated to 80# C1S litho paper from MeadWestvaco (Philadelphia, PA) for the keepsake box.
The converters printed a transparent blue over the metallized web, then added four-color process printing with a UV-cured coating. AGI Media (Melrose Park, IL) designed the package and also served as the contract packager. The studio needed a package that not only looked special but also could be repeatedly opened and closed without deterioration to the score lines.
Another package won a technical award in the food category. This award went to Super Film Ambalaj Sanayi Ve Ticaret A.S. (Baspinar, Turkey), for a metallized laminate wrap for Neba margarine, produced by Paksoy of Yuregir, Turkey (5). Replacing a parchment paper that is traditionally used for these wraps, this metallized and cavitated biaxially oriented polypropylene, called Supmet 1132MD, offers a 4% yield improvement and a far higher oxygen barrier that improves the shelf life of the product to six to eight months, compared to four months for parchment. Plus, the metallized web's oil barrier is also considerably better.
With its eye-catching graphics, gravure printed in five colors by Pilenpak (Manisa, Turkey), the wrapper has boosted product sales by 10%, and its machinability permits the dairy to wrap the margarine sticks at rates of at least 100/min, 10 packs/min faster than the previous wrap, says Abidin Egeli, export director for Super Film.
Two other nonpackaging products won awards. Bekaert Specialty Films (San Diego, CA) won for SpeedStack7, a "lamination" of seven tear-off windshield covers for racers that uses an optically removable adhesive. And Flexcon (Spencer, MA) won a technical award for its replacement of aluminum foil in a warning system for wheelchair-bound patients. In this case, a conductive metallized seat cushion called the Watchpad signals a nurse's station when the weight of the seated patient fluctuates, as if the patient tries to stand up or falls out of the chair.
To contact any supplier mentioned in this story, see: packworld.com/go/w090
Companies in this article