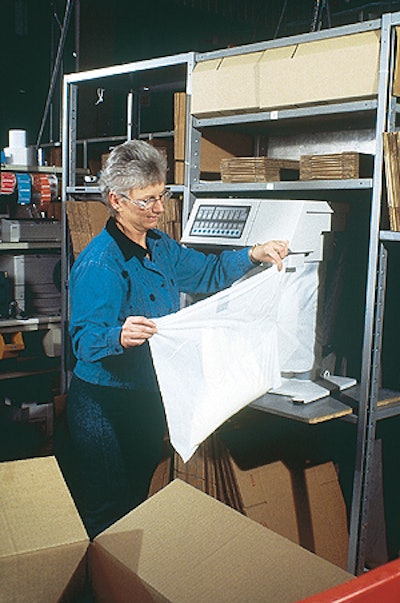 Also required was enough versatility to accommodate a variety of product configurations.
With the installation of an Instapacker™ Tabletop foam-in-bag system from Sealed Air Corp. (Danbury, CT), Hypertherm found the solution it needed. What's more, since switching out of die-cut foam and polyethylene loose fill, the Hanover, NH, firm saved about $200ꯠ in the first year of the new system's use. The bulk of the savings is in materials cost, though a reduction in the amount of warehouse space needed to store packaging materials also played a role.
The Instapacker foam-in-bag system dispenses into a film bag a controlled amount of Instapak® foam. The foam expands to conform to the shape of a corrugated case's contents. Within seconds, the foam sets to lock the product in place. The foam-filled bags can be used either as cushioning below and above a product or as void fill.
To use the Instapacker, an operator selects the percentage of foam needed to create a foam-in-bag cushion of desired thickness. Once the bag is filled, the operator removes it from the roll along a perforation. The bag goes in the bottom of the shipper to provide bottom cushioning. The operator places product on the bag, then adds a second bag on top. All that's left is taping of the shipper.
Even shipping costs have been reduced since the switch was made. "Our packages are an average of two-and-a-half pounds lighter than before, which translates directly into freight savings," says John Blair, a senior project manager at Hypertherm. —PR
Companies in this article