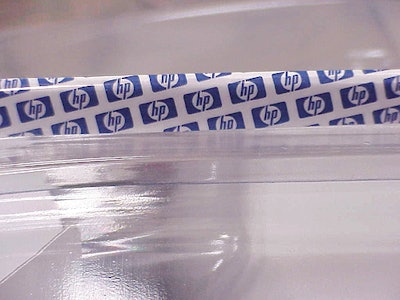 Hewlett-Packard Co., Palo Alto, CA, has introduced a new printer in an award-winning clamshell that's packed with consumer-friendly innovations.
"We're trying to focus on the consumer experience," says Kevin Howard, HP package engineer and scientist. "We tested a number of different concepts, and this is the one that was liked." The stackable clamshell offers several unique features including a convenient handle that orients the product when it's carried. Molded of a special grade of PET, the clamshell is sealed using tape.
The clamshell contains a new model of printer that allows users to customize the printer cover using a photo or printout of their choice. "The point of this package was to show that unique capability that no other printer has had before," says Howard. The clamshell is the same for all 20 versions launched worldwide in October, including one model available in the United States for $89, according to Howard.
The package recently received an AmeriStar as the 3M Integrity Award winner from the Institute of Packaging Professionals, Naperville, IL. (see packworld.com/go/c063). The award recognizes the package that demonstrates the highest standards in economy, ecological efficiency, product protection, and marketing.
Package components include the clamshell carrying case that measures 19½'' x 14½'' x 8½'' when closed. It is molded by HP's regional thermoformers from a 45-ga sheet extruded of SealPET™ that is supplied by Alcoa Kama Corp. (Hazleton, PA). SealPET is a radio-frequency sealable version of PET, which otherwise lacks the polarity that allows it to be RF sealed, according to Alcoa Kama. The clamshell also contains an accessory tray thermoformed from 35-mil SealPET sheet.
Why SealPET? "Since I've been in this position, I've eliminated the use of PVC for environmental reasons for any kind of thermoforming here at HP, even though it is easy to thermoform, has good mechanical properties, and is relatively low priced," says Howard. "SealPET is about the same price as PVC, and has about the same resiliency and functionality. Yet it has better upside because it's a better environmental solution and can be recycled again as PET.
"SealPET also has far more resiliency than other PET-based materials, and that was key here," Howard explains. "A PET copolymer was a possibility, but would be very expensive. All PETs are not created equal, especially as you add recycled content and produce thicker structures." The amount of post-consumer recycled content in the SealPET is currently 10%, but Howard expects that will increase to 25% in the future.
Other package components include two corner cushion pieces molded of recycled PET (RPET). Additionally, two die-cut, 14-pt SBS cards snap into tabs inside the clamshell, one on the front, one on the back. The CS1 card stock is printed in four colors with an aqueous varnish.
Howard admits that some consumers may be put off by all the plastic packaging versus printed corrugated boxes. But he notes that the clamshell—and RPET cushioning—are molded with the #1 SPI coding for PET. The environmental aspects of the packaging are otherwise not noted for consumers.
Totally recyclable
"Even if consumers are unaware of the differences between plastic materials, I feel it's my responsibility to help safeguard the environment while maximizing HP's profits," says Howard. "Including the inner packaging components and the tape, it's totally recyclable even with tape on the edges, according to a local recycler."
Because the clamshell is not cut or destroyed upon opening, Howard feels that "it's stout enough to reuse, and because it has no sharp edges, kids can even use it to store toys." That's due to the use of tape to seal the clamshell, which is another of the package's breakthroughs.
The clamshell's edges are tamper-evident sealed in four areas using pressure-sensitive tape, which Howard believes is unique. "We didn't want to rely on radio-frequency, which is normally used to seal thermoformed packages, because it would be impossible for a person to cut through this thick material," he explains. "One of my vendors said that in his 44 years in thermoforming, he has never before seen tape used to secure a clamshell."
The flanges are molded with marks in four places to inform HP workers where to apply the 4''-long pieces of TE tape: one on each side, and two on the top (the bottom is hinged). The laminated film tape is supplied to HP die cut on a liner with a permanent adhesive. It is printed in one color repeating the HP logo.
"For heat-sealed clamshells, users often don't know where to cut the package open and can sometimes damage the product inside," Howard says. "The beauty of this package is that, because of the tape, knowing where to cut the package open is completely intuitive for consumers."
The tape requires scissors or a knife to open and does not propagate a tear. "We didn't want a thief to be able to open the package with his hands or teeth," Howard points out. He declines to disclose more about the p-s tape, which required "a lot" of development.
A walking billboard
HP also put much thought into the carrying handle. "It is unusual in that it forces the consumer to carry the product in only one orientation," Howard explains. "That means that the unit's graphics are always going to be displayed to other consumers as the consumer walks down the aisle with it."
He also notes that the handle is not die cut, so it does not have any sharp edges that could make it uncomfortable to carry.
One of the few drawbacks to the new package is that it does not cube out as well as boxed versions on pallets: HP gets only 60 per pallet compared with 108 in a standard printer box. Two clamshells are placed into a corrugated master case before palletizing. "Corrugated takes up 100 percent of the compressive load in protecting the clamshells," explains Howard.
The clamshells are also stackable, a feature that was not part of the original design. When it was found during development to be "absolutely essential" in Latin American and European markets, HP redesigned the clamshell to make it stackable. Howard reports that the clamshells are stacked up to five high in stores in Germany.
Howard acknowledges that the packaging is "significantly more expensive" than standard box-and-foam packaging. "We felt more value could be derived by spending more money than usual on packaging, so we can catch consumers' eyes as they walk down the store aisle," he says.
Although it's too early to note sales results, Howard says that in market tests worldwide, the clamshell has gone over "terrifically well."
Companies in this article