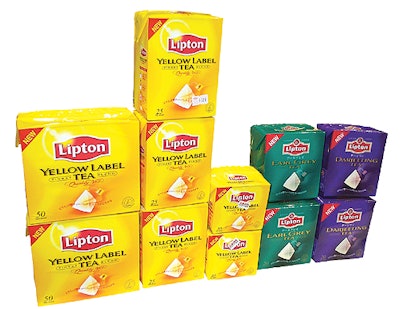 At Pack Expo, Hosokawa representatives described the pack as the first stackable stand-up pouch. It accomplishes this by using paperboard inside the film structure to give it a folding carton-like ability to stand. To manufacture the pack, Hosokowa acquires film from another supplier and converts it at its Fujioka, Japan, plant. The two-ply film includes a 20-micron (0.8-mil) heat-sealable oriented polypropylene. That material is reverse-printed gravure in six colors and dry-laminated to 50-micron (2-mil) linear low-density polyethylene.
Hosokawa's proprietary bag making equipment spot-seals the film to a 16-pt virgin paperboard sleeve, which is coated on one side for moisture protection. An injection-molded LLDPE zipper is added to provide resealability. Premade, knocked-down packs are shipped to a Lipton plant for opening, filling, and sealing. Hosokawa was involved in designing the equipment, which is built by a manufacturer in Japan.
The machinery folds down two film "ears" from the top of the carton and heat-seals one ear to each of the two carton sides. It also folds and heat-seals two more ears underneath the pack, forming a flat bottom pouch. Hence the need for the heat-sealable OPP material.
At press time, no information was available from Lipton. Hosokawa says the pack is used for a family of Lipton's new pyramid-shaped tea bags, in 10-, 20-, 25-, and 50-count varieties. —JB
Companies in this article