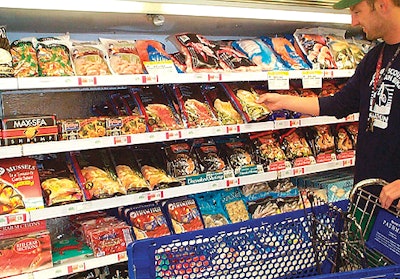 Significant sales increases are the result of new packaging for private-label frozen seafood fillets at Pathmark Stores, Carteret, NJ. Pathmark, the largest supermarket chain in New York, introduced the new packaging earlier this year for its sole, flounder, and scrod fillets that are packed in 16-oz stand-up pouches.
The premade pouch is provided by Plassein Intl. (Willington, CT) to a contract packager that fills and seals the pouch before shipping to Pathmark. Plassein makes the pouch from a solvent-less lamination of 100-ga nylon and 3 mils of low-density polyethylene. Plassein also prints the pouch material in eight-color process flexography. Pathmark declined to identify the contract packaging company.
The stand-up pouch not only improves merchandising of the frozen seafood fillets, it also responds to Pathmark's greater use of vertical freezer cabinets. "For several years, we have been shifting more from well-type freezers to upright multi-deck freezer cabinets," says John Sportelli, director of fresh and frozen seafood for Pathmark.
"We now have a 12-foot prototype freezer cabinet that gives us 12 feet of well space, but four times that much of shelf space because there are four decks," he adds. "So many frozen seafood packages are better suited to display in the well, and relatively few items are designed for shelf display. So when we designed this new packaging, it was specifically done to merchandise well on shelves."
The packaging and graphics were developed with the help of Daymon Associates (Stamford, CT), a consultancy that specializes in packaging development for private-label products.
Formerly a brick
The new stand-up pouch replaces a package style that had been used for nearly 50 years. As Sportelli explains, the previous pack had some real disadvantages. Instead of individually frozen fillets, the previous fish portions were frozen into a brick-style unit that had to be completely thawed to separate the fillets.
"The fish fillets were created and loaded into a form in the shape of a brick," Sportelli says. "The brick was then frozen into one solid block. Then we had a printed waxed-paper wrapper that was applied to the brick and sealed to itself. To use any of the fillets, the entire package had to be thawed." Sportelli admits that this type of package had been used for decades and, along with the thawing issue, the paper wrapper didn't offer appealing graphics.
Now each of the fillets is individually frozen before being filled into the stand-up pouch. "So now consumers can remove one or two or any number they choose, and the rest can remain frozen. This is an added convenience for consumers," Sportelli says. "We thought it was time to take our packaging to a new level and offer more value and convenience to the consumer."
Window plus recipes
Along with the mouth-watering serving suggestion, the new pouch also incorporates a clear window on the back, plus recipes.
"We felt that consumers want to see what the product looks like, so we incorporated a window on the back of the pouch," Sportelli points out. "By being able to see the fillets inside, they can have the confidence that what they're getting is what they expect, something that will make them happy.
"For many products sold in bags before, the product was visible through a clear bag. But when you get ice and frost buildup inside the bag, it didn't make for a very good product presentation. It didn't look very attractive. So, with this new package, we give consumers the best of both worlds: excellent graphics on the front panel plus visibility of the product on the back."
Research has proven that recipes can be very important for home-prepared seafood.
The most frequently cited reason why people don't prepare seafood at home is that they don't know how to prepare it. "So if we can assist them by providing recipes along with cooking instructions, Pathmark should convince some shoppers to try the products," the seafood director points out.
Other material considerations
In addition, Pathmark was concerned that the new packaging would convey the distinctive blue-and-red Pathmark banner logo that's seen on its products throughout its stores. "Plassein's print capabilities consistently maintained the integrity of our logo and helped the colors in the photography of the fillets really pop on the package," Sportelli says.
"A key requirement was to have the package stand up firmly on the shelf. Puncture-resistance was a factor too," says Roger Sullivan, vice president of marketing for Plassein. "Plus it had to provide barrier protection so the package wouldn't get any more air inside than when it was packed."
These three packages may be the opening salvo for more private-label Pathmark seafood in stand-up pouches, Sportelli hinted. Besides, he adds, some branded seafood products employ similar packaging.
"Overall, in commodity-type seafood, packaging has come light years from where it was just five years ago," Sportelli points out. "In the last few years, nearly every packer or processor or importer has developed upgraded, high-quality packaging. So this puts pressure on retailers to do the same thing with our private-label products."
After all, the Pathmark products are superior-quality Alaskan select fillets, Sportelli says. "We stand behind the high quality of the products we put on the freezer shelf," he says. "Now thanks to our new packaging with enhanced consumer appeal, our frozen fillets are the hottest items on our coldest shelves."
Companies in this article