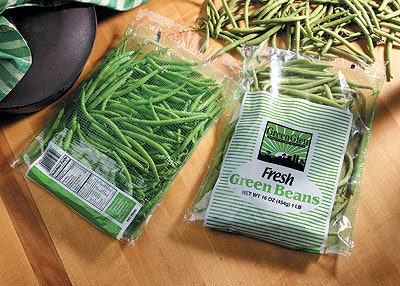 Combing the aisles of Chicago's McCormick Place like thousands of other Pack Expo 2000 attendees, Warren Debnam of Hanover, PA-based Green Glen Produce carried more than his briefcase and business cards. He also carried a bag he wanted to use to package branded fresh green beans in 1- and 2-lb portions for sale through retail outlets.
The problem with the bag he carried was that it was only available to him premade and wicketed, a format that was too expensive from both materials and labor-cost standpoints. Debnam's mission at Pack Expo was to find a vertical form/fill/seal machine that would allow him to make bags from rollstock instead of buying premade bags.
Complicating Debnam's search, however, was that he wanted his bags to incorporate a unique mesh material called CLAF®, made by Atlanta Nisseki CLAF, Inc., or ANCI (Kennesaw, GA). CLAF is a three-layer coextrusion of low-density polyethylene/HDPE/ LDPE. ANCI runs the three-layer structure through a unique cutting system that turns the material into mesh. The central layer of HDPE gives the material the toughness it needs, and the LDPE provides heat sealability.
The bag Debnam envisioned for his green bean package was to have a CLAF back panel and a front panel of LDPE. The beauty of this combination approach, says Debnam, is that CLAF's mesh structure provides sufficient breathability to prevent condensation from forming inside the bag and spoiling the beans. Yet the LDPE front panel can carry nicely printed graphics.
Buying such bags premade was one thing. But putting CLAF to work on a vf/f/s machine is more complex, because filling has to be factored in. Also, the rollstock is not the smoothest of substrates. It's half LDPE and half CLAF. A flexible film converter joins the two in the middle with a continuous heat seal. The machineability of such a structure is naturally tricky because it means pulling dissimilar materials over a forming collar and through the filling and heat-sealing stations—ideally, at high speeds.
Making connections at Pack Expo
Debnam's trip to Pack Expo got him in touch with vf/f/s machinery maker Matrix Packaging Machinery (Saukville, WI) and an independent sales representative for Matrix named Craig Rusert. "At the time we met Warren, I was trying to develop a proprietary mesh film package design that would work on a vf/f/s machine," says Rusert. So Debnam, Rusert, and Matrix joined forces. Aided by ANCI and Vonco Products (Lake Villa, IL), the converter that supplies rollstock CLAF/LDPE film to Green Glen, the team achieved their goal.
"A provisional patent application has been filed by Warren Debnam and me," says Rusert. "We have a technical success, and Warren has a fresh green bean package that appears to be a winner." Debnam, a co-owner of Green Glen Produce, also will collect royalties from others who choose to run CLAF material through a Matrix vf/f/s machine.
Above the Matrix vf/f/s machine is a 14-bucket combination scale from Yamato (Meguon, WI). It drops product on demand like any other combination scale. Bag making on the Matrix machine, however, is quite unusual.
Like comparable equipment, the Matrix system folds film into a long tube, forms a seal in the vertical direction, forms a bottom seal, advances the material, and forms a top seal after product has been dropped. However, the seal jaws that produce top and bottom seals are turned 90° from their position on traditional vf/f/s equipment. And because the mesh/film rollstock is fed in the way it is, the "top" and "bottom" of each bag formed are actually the left and right sides of the three-side-sealed bag that drops from the sealing jaws.
Also different is that the vertical lap seal formed on most vf/f/s machines is replaced by a "pinch seal" made by pinch seal bars that press one film edge against the other and heat seal the two together. The pinch seal is made in such a way that a zipper reclosure feature can be added should Green Glen elect to do so in the future.
The pinch seal becomes the top of the finished bag. The opposite end becomes the bottom of the finished bag; it's simply folded over without a seal.
Debnam says both the scale and the bagger, running commercially now for just over a year, have exceeded his expectations and are routinely producing either 1- or 2-lb bags at about 65/min. Also integrated into the Matrix system is a thermal-transfer printer from Norwood Marking Systems (Downers Grove, IL) that applies a 10-day best-if-used-by date to the front of each bag.
Retailers in the mid-Atlantic region typically sell the 1-lb bags for $1.79 to $2.39 and the 2-lb bags for $2.39 to $2.99. The bags of beans are packed in conventional corrugated shippers and sent to stores in refrigerated trucks. In-store display is at 36°F to 38°F.
5-lb bags, too
In addition to running the combination CLAF/film web through the vf/f/s system, Green Glen also uses the machine to produce 5-lb bags of green beans for foodservice accounts. These don't require any CLAF material because they tend to be used so quickly that problems with condensation never arise. Simple LDPE suffices.
Until the new equipment was installed, the 5-lb bags were bought premade and filled manually. Debnam is delighted with the cost savings that came when premade 5-lb bags were replaced by bags made from rollstock on a vf/f/s machine. He chooses not to quantify the savings but indicates they were "dramatic."
He's also happy to have the machine-development work behind him and believes his 1- and 2-lb retail packs will do well for two reasons: They're genuinely different, and they're an improvement upon everything they compete against.
"In introducing a product like this, you'd better have something that keeps you from being a 'me-too,' and that's what this package has," says Debnam. "It has advantages for both the consumer and the retailer. The consumer doesn't have to spend time bagging beans. And retailers have a display-ready package that's much easier and neater to handle in the store."
Debnam notes that Matrix Packaging is now developing a family of machines that will take rollstock similar to what he's using and produce bags of fresh produce items including potatoes, citrus fruits, and onions at speeds two or three times higher than today's wicketed bagging systems. He wishes Matrix well in its new machinery initiative.
"Had they not been willing to step up to the plate in the first place, my bag would not be in stores today," says Debnam.
Companies in this article
Videos from Diagraph, An ITW Company