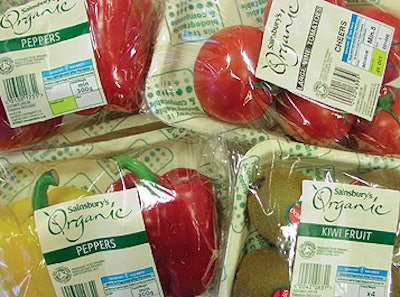 A March 14 editors' briefing at Eastman Chemical (Kingsport, TN) revealed that Eastman's Eastar Bio® biodegradable copolymer is part of two intriguing food packages, one here and one in Europe.
The European application involves food trays used by J. Sainsbury's Co. in England for organic vegetables. Apack (Markt Erlbach, Germany) makes the tray.
Sainsbury's, of course, is a retailer, so it's really Sainsbury's produce suppliers that pack produce into the trays. Still, it was Sainsbury's that drove the innovation.
"We have lead suppliers with whom we work very closely on new technology trials," says Terry Robins, technical manager of packaging at the London-based chain. "In this case, we worked with one of these lead suppliers to make sure the biodegradable trays would work in our system. Then we made it known to all our organic produce suppliers that we'd prefer this tray."
In England, retail chains often dictate packaging specifications to their suppliers to a far greater degree than in the United States. So when a retailer articulates a preference, it's as good as saying "Here's what you will use."
The Apack trays consist of starch—derived from renewable resources such as potatoes, corn, or rice—mixed with limestone and fibers in a slurry. This mix of materials is formed into molds and dried. Sheets of formed trays are discharged immediately into a vacuum laminating system that uses an organic adhesive to bond a layer of 2.5-mil Eastar Bio copolymer to the food-contact side of the formed trays. Extrusion blown by Fardis (Beerse, Belgium), this material gives the tray the moisture resistance it otherwise lacks. Yet Apack guarantees that 99.7% of the tray will biodegrade in a compost pile, commercial or domestic, within six weeks.
Development work
"Quality and innovation have been the bywords at Sainsbury's since 1869," says Robins. "We
started looking at these starch-based trays several years ago, and we had to do considerable development work with Apack to make sure the material would perform as needed."
Using the trays for organic produce made sense because consumers drawn to such products are more likely to be sensitive to environmental issues such as biodegradable packaging than most consumers. They're also willing to pay more for packaging that's "greener," and the biodegradable trays are definitely more costly. According to Robins, if you average out the cost of the alternative trays most commonly used in England today—pulp, polypropylene, or PET—the biodegradable tray is about three times as much. Sainsbury's passes part of that upcharge on to consumers, and since the tray first appeared nearly 18 months ago, consumers have shown they're willing to pay the upcharge.
Robins says that use of the biodegradable tray in food categories other than organic produce is unlikely until the tray comes closer in cost to the alternatives. He's cautiously optimistic that that day will come, though he says he could use a little help from his friends.
"For a period of time at the outset, we had an exclusive on the use of this tray in England," says Robins. "That has since expired. Frankly, I wish other supermarket chains would pick up on this. With greater volume would come reduced cost."
Some added volume may be generated, says Apack managing director Thomas Koeblitz, if certain German firms now evaluating biodegradable trays proceed to use them for packaging fresh meat.
"We see a huge opportunity in modified-atmosphere packaging," says Koeblitz. He says the biodegradable tray could serve as a replacement for trays currently used that consist of expanded polystyrene and ethylene vinyl alcohol (EVOH). Cost and performance would be comparable, says Koeblitz, except that the Apack tray would have the added advantage of biodegradability.
Also worth noting is Apack's keen interest in the United States marketplace. Koeblitz says the firm's biodegradable trays have been tested in the U.S. with a big poultry producer. Stay tuned for further developments, he says.
Although most of the biodegradable trays currently used by Sainsbury's for its organic produce come from Apack, Robins says a second supplier is Potatopak (Somerset, "England).
"The tray from Potatopak doesn't have the biodegradable copolymer laminated to it," says Robins. "It's used for dry produce, like apples for instance, so the starch/limestone/fiber tray has all the performance characteristics required without adding a moisture-resistant copolymer."
Update on Earthshell
Also surfacing during the Eastman press briefing was the identification of Eastar Bio as the material sometimes used by EarthShell Corp. (Santa Barbara, CA) in making its biodegradable sandwich clamshells (see https://www.packworld.com/go/c027). These are made in a manner similar to that used for the Sainsbury's tray.
Most media coverage of EarthShell has focused on McDonald's use of EarthShell's biodegradable sandwich clamshells. But a February announcement by EarthShell indicates that biodegradable plates and bowls under the EarthShell Packaging brand will be available in the second quarter of this year at some 90 Wal-Mart stores throughout the Northwest. The decision follows testing in Portland, OR, and Baltimore, MD.
"Innovative products, such as EarthShell Packaging plates and bowls, allow us to offer our customers quality goods that are environmentally preferable," said Wal-Mart buyer James Alden in a February 4 announcement. "Wal-Mart is pleased to introduce EarthShell products into our current line of disposables."
In addition, EarthShell recently introduced flexible packaging in the form of sandwich wraps. Like the company's rigid clamshells, the flexible packaging, says EarthShell, "biodegrades when exposed to moisture in nature, physically disintegrates in water, and can be composted in a commercial facility (where available) or in your backyard."
According to Vince Truant, senior vice president and chief marketing officer at EarthShell, the company has produced enough commercial quantity of the biodegradable film to do a "significant" test market, which is now under way. Truant is not ready, however, to identify the company using the flexible film.
Companies in this article