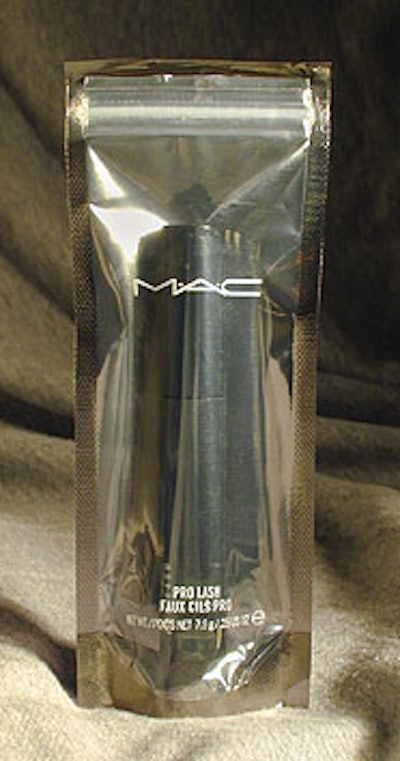 "We knew we wanted a flexible pouch due to its inherent economic benefits as well as the fact that it could serve as a mini makeup case," says Peter Rizzo, director of MAC's package development group. "Our challenge was to find a company that could deliver a pouch with both front and back printing that was made from two separate sheets of film. We wanted a sheer gray front and dark gray back that when viewed together would replicate MAC's signature gunmetal color."
Specialty Films & Associates (Hebron, KY) delivered the pouch with the look Rizzo had in mind. It consists of a front and back panel joined on a pouch-making machine from Totani, represented in North America by Amplas (Green Bay, WI). Added during pouch-making are a Minigrip/Zip-Pak (Manteno, IL) zipper reclosure feature at the top and a gusset at the bottom. SF&A makes the pouch from two different substrates. The 4.5-mil front panel is an adhesive lamination of polyester and LDPE sealant web. The polyester is printed on a gravure press in one color.
The 4.5-mil back panel is also an adhesive lamination. SF&A buys a polyester substrate described as "dyed and partially metallized." This is laminated to a LDPE sealant layer. Gravure printing on this panel is done in two colors.
The biggest technical challenge behind the pouch construction, according to both SF&A and MAC, is SF&A's ability to take two separate printed webs and marry them in register on a pouch-making machine. Pro Lash mascara sells nationwide for about $9.50. —PR
Companies in this article