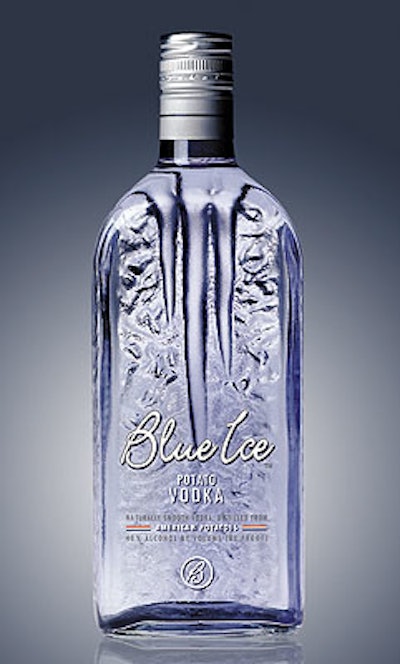 Risk is a basic fact of life for entrepreneurial companies such as 21st Century Spirits of City of Commerce, CA. Take the company's August 2001 introduction of Blue Ice Potato Vodka in a 750-mL glass bottle. The introduction involved not only the financial risks of an uncertain economy, but also the risks that are inherent when the packaging is sourced through multiple suppliers on two continents.
Although the alcoholic beverage is sold only in California and Idaho, a company in Germany produces the custom bottle via the blow-and-blow glassmaking process. Another firm in that country applies a blue coating to the bottle's exterior. Coated bottles are then shipped to a company based in Ohio for application of front- and side-panel pressure-sensitive labels that are supplied by yet another U.S. firm. Labeled bottles are finally sent to a contract manufacturer and packager in Idaho where the vodka is created and bottled.
"Isn't that process expensive and time-consuming?" Packaging World asked. "Tell me about it," says 21st Century president Jim Myerson. "At the beginning, we bought minimum runs of glass and we paid top dollar," he admits. "But we're entrepreneurs, and we believe you can make the world's best vodka, but if you don't have a great-looking package that speaks of quality and provides a unique look and appeal, the consumer's not going to try it."
Designing the bottle
In part because the initial volumes would be so small, the company couldn't find vendors in the United States that were interested in supplying the limited quantities of the bottle that 21st Century had in mind. So the company called on Demptos Glass (Louisville, KY) to help out. Demptos brought in contract designer Dan Matauch, principal of award-winning design firm Flowdesign (Northville, MI).
Matauch's first priority was to come up with a name for the new vodka. "Blue Ice" refers to the glaciers that are the source of the Rocky Mountain spring water used to make the vodka. These glaciers are so compressed they have little oxygen. Consequently they turn blue.
Once the name was settled, giving the glass a blue tint seemed an obvious way to reinforce the blue theme. "We also decided to use clear labels that allow consumers to see through the blue-coated bottle to the back panel," says Matauch. "There the glass is sculpted to resemble a rugged glacier, with smooth icicles forming down the center of the panel."
The glacier and icicles are machine-decorated in relief in the bottle mold, according to Rob Belke of Demptos Glass. The relief design means that this back panel "flows" inward, toward the bottle's front panel. It's clearly distinguishable from the bottle's flat front and sides. Not only does this indented back panel provide graphic appeal, it also makes for easier gripping.
"Texture is important," believes 21st Century's Myerson. "It's a heavy glass [650 g] that projects quality, and when you pick it up it feels good. It's a rectangular bottle, and it's quite different than most vodka bottles, which are cylindrical," he suggests. "It leaves a good impression that leads you to want to try it."
Outsourcing
21st Century relied on Demptos Glass not just for bottle design, but also to arrange bottle manufacturing, procurement of packaging materials, and contract manufacturing and packaging services.
Relying on two separate suppliers in Germany to make and coat the glass bottles was done partly because they were more willing to accommodate market tests or product introductions such as Blue Ice Potato Vodka. "More important," says Myerson, "these companies delivered exactly what we wanted in terms of bottle appearance and the depth and evenness of color." Demptos preferred not to name either vendor.
Once the glassmaker produces the bottles, it ships them to the other unnamed vendor in Germany for application of an organic blue coating to most of the bottle's exterior. No coating is applied to the mouth and neck area to prevent the possibility that the coating could flake off during opening and reclosing of the aluminum cap onto the bottle. The coating is applied evenly to the bottle during an annealing process, at temperatures lower than that of the glassmaking process.
Myerson and Demptos's Belke say coating is more economical than using blue-colored glass at this point, though that could change in the future, depending on bottle-making volume.
Contract-filled
After bottles are coated in Germany, they're shipped to Signature Label (Oak Harbor, OH) for label application. Labels are supplied by Fort Dearborn (Elk Grove, IL). The 2-mil clear biaxially oriented polypropylene film labels material is from Avery Dennison, Fasson Roll North America (Painesville, OH). Fort Dearborn screen-prints it in four colors plus varnish. The labels adhere to a 1.5-mil clear polyethylene release liner.
Labeled bottles are then sent to Silver Creek Distillers (Rigby, ID) for filling. Silver Creek's distillery uses a four-year-old monobloc rotary bottle washer/filler/capper to do the job. The 12-head filler runs Blue Ice at about 25 bottles/min.
The Stelcap® closure is supplied by Pechiney Capalux (St. Cesaire, Quebec, Canada). The roll-on aluminum closure measures 31.5 mm in dia, with a 44-mm skirt. The tamper-evident cap includes an expanded polyethylene inner liner.
Gray Ottley, director of strategic planning for Silver Creek, tells PW that no new equipment was needed for filling the vodka. However, he says, "we had never handled a bottle with this type of coating, or its unique shape. And while it's a fairly standard coating, we had to make sure we didn't in any way scratch the bottles. So we needed to add change parts for bottle handling, such as washer and grip heads, timing screws, and starwheels, which we purchased from our distributor for this Italian-made equipment."
Silver Creek personnel apply a hang tag around each filled bottle's neck. It's a four-page color "booklet" that describes the vodka. Bottles are packed 12/case and shipped to wholesalers who distribute the spirits to the retail market where the 750-mL bottle sells for $19.99. A similarly designed 50-mL "trial-size" bottle retails for up to $1.40. Bottles are also sold to on-premise locations including restaurants, upscale bars, and hotels.
"Silver Creek is our business partner, and they manufactured the product to our recipe," says 21st Century's Myerson. "All of the vendors involved have done a wonderful job for us. Since the product was launched in August, it's done very well, and we're looking to add different sizes, in the same style of bottle."
Companies in this article