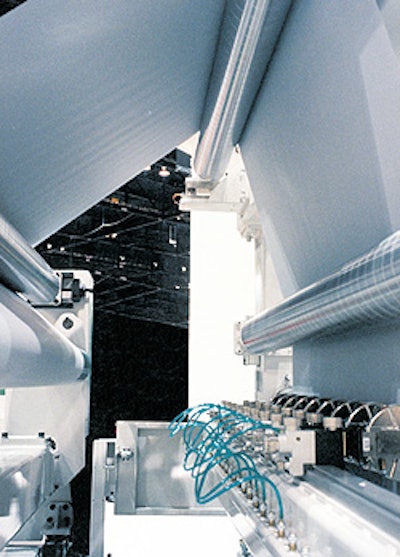 Drug, food, and other consumer and commercial goods packagers may get roped into the "paper and other web coating (POWC)" clean air rule the U.S. Environmental Protection Agency plans to publish late this year. The rule is supposed to affect mostly packaging manufacturers that qualify as "major sources" of organic hazardous air pollutants (HAPs) such as toluene, methyl ethyl ketone, methanol, and 15 or so other chemicals. These manufacturers may have to install control equipment or start buying no- or low-HAP alternatives to the solvents they currently use. Packaging users probably won't have to worry about instituting either of these potentially expensive remedial strategies. However, companies that run packaging lines may have to test emissions and keep records just to prove they should not be covered by the POWC Maximum Achievable Control Technology (MACT) rule. Moreover, packaging buyers will undoubtedly face price increases from their vendors who do have to reduce emissions under the POWC. However, the regulation won't go into effect until approximately three years after the final rule is published. Hoy Bohanon, a professional engineer at R.J. Reynolds Tobacco Co., Winston-Salem, NC, is worried that his packaging operations would fall under the POWC MACT. In its operation, boxes and cartons of cigarettes, unwound and formed from rollstock, are sealed with adhesive (i.e., "coated") for shipment. Hundreds of other packagers also use glue to seal web-fed materials in a similar fashion. The RJR packaging facilities in North Carolina are unlikely to fall under the POWC rule because they are not located at "major" HAP sources. That refers to a plant that emits either 10 tons/year of a single HAP or 25 tons collectively of any of the 180 or so HAPs. But packaging plants like RJR's that use glue and other adhesives may have to do air testing within the plant to prove the facilities are not major sources. This testing could cost big bucks and the associated recordkeeping would add yet another cost.
Some offices affected Other packagers could get hauled into the POWC MACT. Bill Forcade, an attorney for packaging manufacturer Pactiv Corp. (Lake Forest, IL), which owns 85 facilities around the world, says Pactiv has a California plant that is a major source of HAPs. Those HAP emissions do not originate from paper or web coating operations. The plant does contain a coating line that uses water-based solvents that create what's called "de minimus" HAP emissions. Nonetheless, that coating operation would presumably have to be tested—and controlled if necessary, although that is unlikely—because it is located at a major source. Forcade goes even further. Not only would low- or no-HAP coating operations at major sources have to be tested to make sure they comply with one of the two compliance options, but so would office laser printers, for example, that print ink (containing HAPs) on paper. Testing of those operations to insure they meet the emission limitations would be either expensive or near impossible, given the lack of sensitivity of test procedures such as Method 24, the accepted EPA test for determining volatile organic chemical (VOCs) emissions. Method 24 would be used to detect VOC emissions from water-based coatings. VOCs are the HAPs of concern, for the most part, at printing and coating facilities. Forcade argues that Method 311, used to analyze non-VOC HAP emissions, has the same shortcomings. So Pactiv, at least for a couple of the six or so of its plants where coating operations are co-located with other, major HAP sources, would not be able to show they are in compliance with the POWC rule. There are many packagers such as RJR that use glue that would fall into the Pactiv category. Forcade says HAP emissions, in this case formaldehyde, from glue use are less than 13 lb/yr. Paul Almodovar, an EPA official, acknowledges that there is a good bit of uncertainty about the coverage of the POWC MACT. "I am not in a position to say whether those processes would be 'in' or 'out' of the final rule," he explains. "We are looking at that issue." The EPA has been issuing MACTs on a sector-by-sector basis since the early '90s. A printing and publishing MACT was finalized in December 1995 and became final three years later. Many companies that do both printing and coating of web substrates opted to have their web coating operations covered under that rule, as they were allowed to do. So those will not be affected by this new POWC MACT. In its economic analysis, the EPA estimated that three of the web coating companies out of the 169 that would be affected would close as a result of the emission reduction requirements in the final POWC rule. But the number of companies impacted would increase dramatically if the EPA decides its definition would include small-time coating operations, such as RJR's and Pactiv's water-soluble operations. There is no question that printing and web coating operations that are major sources must comply. If, after testing, those companies find that their HAP emissions are too high, they will have three control options: cut emissions to less than 5% of the organic HAP applied for the month at existing sources, below 2% at new sources; keep emissions of coating materials below 4% of the mass applied during a given month for existing sources, 1.6% for new sources; or emit less than 20% of the solids applied in any given month for existing sources, under 8% for new sources.
The options Companies that are affected essentially would have two compliance options, both of which would have to be in place three years after the final rule is published. They could switch to low-HAP solvents, or keep their product formulations as is and add air emission control equipment to their packaging production line. Which choice they make will be affected by a number of factors, chief among them being whether the company's plant location is in an EPA attainment or nonattainment area. That determination is made based on a geographical region's ozone and particulate matter levels. The EPA tightened the ozone/PM standards in 1997. But industry groups filed a lawsuit to stop the EPA. A federal appeals court in Washington, DC, threw the standards out in the summer of 1999. That case is now before the Supreme Court. But if the Supreme Court sides with the EPA, many more areas will become nonattainment areas, meaning their states and local governments will be forcing businesses located there to cut VOC emissions (remember, most HAPs of concern in the packaging industry are VOC solvents) below what the POWC MACT would require. Packaging manufacturers faced the same low-HAP vs controls choice when the P&P MACT took effect in 1998. Monica Nichols, a principal environmental engineer at Reynolds Metals Co. (Richmond, VA), says that her company took the low-HAP route. "It was a positive experience, but it didn't happen overnight," she explains.
Costly changes Tom Loredo, the manager of environmental health, safety and regulatory affairs at Reynolds Metals, says the company had to do a lot of research and development to find low-HAP alternatives to solvents such as toluene, methanol, and MEK, which were the three HAPs that Reynolds Metals emitted most. Some customers balked at buying packaging made from the new solvents, even though there was no physical difference between the "before" and "after" products. "Most customers would rather not make changes," Loredo states. "They know the product you had been supplying them with worked. They are not sure the new product will work." In some instances, Reynolds Metals' packaging customers shifted to other vendors who decided to keep using the "old time" HAPs and meet the P&P MACT requirements by installing control devices, which is the other option. Either way, packaging prices increase. "Sooner or later, as a result of a government dictate like this, the cost of compliance filters back to the customer," says Loredo. A big part of the cost of compliance, especially for small companies, is understanding what the EPA wants. Glynn Rountree, a former director of the Flexible Packaging Association (FPA), says that it is around the small issues that the FPA has potential problems with EPA's proposed POWC rule, which came out on September 13, 2000. "The rule does not give us any serious heartburn," Rountree says. "But we think some of the monitoring requirements are a little excessive. We have some clarity issues, too. We hope the agency will clear them up. We'll see."
FPA concerns Here are some of the other things the FPA hopes the agency will "clear up." It is uncertain that if a company adds a new, stand-alone coating machine to printing operations that are already covered under the P&P MACT whether that new coating line would also be covered under the P&P MACT. This is mostly an administrative issue because compliance requirements under both the P&P and POWC MACTs will be similar. But if one facility has to comply with two different MACTs, it could turn into a paperwork nightmare of the first order. Rountree says the EPA has told him informally that the new machine would be covered under the P&P MACT. So that is good news. But Rountree wants to read that in "black and white" when the final rule is published. The FPA is also concerned that a company would have to notify the EPA if it planned to switch compliance methods and wait for the EPA approval before doing so. "This would be unnecessary, illegal, and bad public policy," FPA said in its comments. "A company should be able to choose to comply using the procedure that is most feasible for the product that is being made, and to utilize different procedures on different coating lines so long as the proper records are kept." Rountree says he has received verbal assurances from the EPA on this matter, too. Verbal assurances are one thing. Clear language in a final rule is another.
Companies in this article