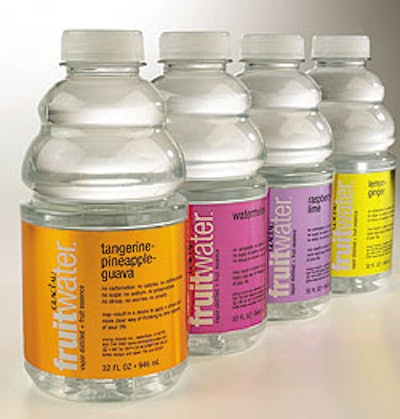 Darius Bikoff, the company's founder and president, says they are worth every penny. In addition to furnishing a "cutting-edge" look, the labels provide water-repellant functionality.
"Glacéau Water is a pioneer concept in modern beverages," Bikoff says. "We challenged our supplier to create an innovation in packaging to complement the innovation of our product."
Supplied by ExxonMobil (Houston, TX), the film for the 2-mil BOPP labels is converted by Hammer Lithograph (Rochester, NY). The labels are UV flexo-printed in three colors. Each of the eight Fruitwater flavors is printed in a different metallized color.
The 32-oz bottles from Constar (Philadelphia, PA) are blow-molded of polyethylene terephthalate. The closure is an injection-molded copolymer material, though further details, Bikoff says, are proprietary.
The bottles sporting the metallic labels were released in March, preceded by a 20-oz version decorated with a paper label. The beverage is available nationwide through natural and specialty food stores and supermarket nutrition sections, priced at $1.99 for the 32-oz size; $1.49 for the 20-oz bottle. Bikoff says he is confident that the new packaging "will satisfy the demand of the increasing number of consumers who want to feel good about what they drink."
Companies in this article