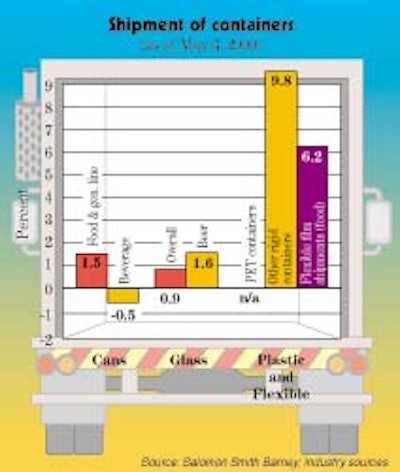 There are many valid responses to that question. Innovative package style, use of new materials, first use of a new machine, an unusual dispenser—these are among the possibilities. Rarely will an editor respond by talking about package graphics.
Yet, virtually all packages somehow, some way employ graphics—even if it's only to identify the product on the side of a box. Most packages, even those not destined to be caressed by the eyes of consumers, do far better than that.
A couple of years ago, our then technical editor and now features editor, Jim Butschli, had a most interesting story about one of the first applications for a machine that produced flat-bottom, stand-up multilayer bags.
Despite the fact that the bag was being marketed to foodservice customers, the most obvious and unusual feature was the bag's graphics. The graphic design was, in fact, an example of "pointillism," a painting style made famous by the French impressionist, Georges Seurat. And the lead to that story drew attention to the fact that a package, usually bought sight-unseen by restaurant operators, arrived at its destination decorated in a most attractive and intriguing print.
Is that bag still being produced? Or was the graphic approach overkill? Was there too much graphic cost in a package that didn't need such artistic treatment? Unfortunately, phone calls to the manufacturer didn't elicit an update.
In a variety of ways, editors at Packaging World see both the best and worst of packaging graphics, day-in and day-out. In many ways, packaging graphics can be the pretty paint on a very plain object. So, often we become suspicious about graphics being used to mask what may be an altogether ordinary, even sometimes inferior product or package.
Instead, give us a multilayer structure with unusual materials or a pearl necklace in a milk carton, and our hearts beat a little faster. Show us a pouch that stands up and can be pegboard-merchandised for a product that's previously been exclusively packed in a lidded tray and we start drooling—or at least bulldog lovers do.
As some of our readers know, virtually all of the senior editors of PW had first served many years at Packaging Digest, where Eastern Editor Bernie Abrams was that magazine's link to the design community, particularly in New York City. Even today, Bernie remains the most experienced of PD's editors with a strong attachment to the design community there.
So, while we were writing for that magazine, most all of the packaging graphics articles emanated from Bernie. Thus, the other editors virtually ceded this subject to Bernie; for our part in those days, we focused on the package structures and the machines that were making news.
At PW, all editors have to assume a little bit of Bernie's graphics mantle. Sure, high-investment machinery applications and new structures will gain our attention, but we all need to be on the alert for interesting graphics stories as well. This is one of the reasons why we've created a new department, Design Trends, that specifically examines only the graphic design elements for a package.
Designers, whether independent consultants or a company's own staff, are an integral part of the presentation of a package and a product. Are they pivotal to the success or failure of a product/package combo? Yes. In fact, sometimes their work overshadows other marketing decisions such as price point, product size or consumer vs retailer convenience. Sometimes designers become a dominant factor in the product's success or failure.
These graphics designers, much like packaging distributors and consultants, seldom earn the appropriate credit for their work. Mainly that's due to the old saw, "Every [package] success has a thousand fathers; each failure is an orphan."
At PW, we recognize that virtually every package has at least a large number of godfathers—be they from design, purchasing, marketing, distribution, production, development or even management. That's why we try to tailor our editorial package so that our application stories, our topical subjects, our research reports or even our Onstream news will enlighten or inform people bearing those diverse titles and responsibilities.
And we're doing the same at our Web site: www.packworld.com. Not only do we present a full archive of our stories and photos for the last six years, but we also present new and exclusive stories, including some that may never appear in PW. The Web site allows us to be more timely than a monthly magazine, but with the sacrifice in graphic quality that's endemic to the Internet. The magazine gives us the full graphic presentation, but it can't match the timeliness of the Web site.
So today's paradigm is: If you want it fast, check the Web. If you want the best graphic reproduction, review the magazine. In essence, you can have it quick and "down and dirty," or you can have it with high-quality images over time.
In the recent past, "over time" was measured in at least weeks or months. Today, few of us or our companies exhibit that kind of patience. At PW, we see the Web site as our "weekly newsletter," a way we communicate in a timely fashion. This magazine may not match that timeliness, but it adds the kind of quality image reproduction, that the Web cannot match. The likelihood is that, at some point in the future, both goals may merge. And we'll strive to make the reporting as sound on the Web as what we deliver through PW each month.