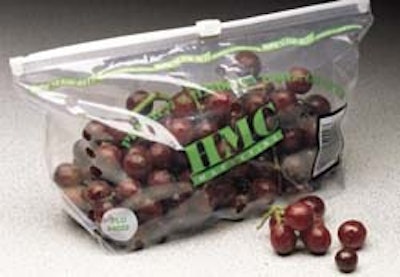 HMC Marketing of Kingsburg, CA, believes it's found a better way to bag grapes for retail sale. A grower/packer/shipper of grapes, nectarines, oranges and other fruits, HMC now uses a gussetted bag with a sliding zipper closure to keep its grapes in place.
Grape bags used by most retailers and growers are perforated with no closure feature. Wily little fruits that they are, the grapes tend to separate from the vine and roll out of these bags during shipment or when store employees stock shelves. Grapes also have a knack for getting crushed during shipment, or when store employees close up the bags by twisting or knotting them. Retailers lose money because these smashed or runaway grapes add to shrink and labor costs. Grapes spilling onto the sales floor also pose slippage dangers for consumers and store employees.
HMC president Harold McClarty says he's found a solution to this problem with bags from Pactiv (Lake Forest, IL) equipped with a Hefty Slide-Rite® closure. The Slide-Rite zipper has a polypropylene piece that slides along polyethylene male and female "tracks" to open or reclose the bag. These bags are more rigid than conventional bags and require no twisting or knotting by store employees, he says.
"The Slide-Rite bags just make a lot of sense to me," McClarty says. "That's why we didn't do any research to find out how well they would be received, or if we could get extra money for them because they cost us more. They look better, they close easier and I think consumers appreciate that we're doing something better."
Costs three times more
HMC still uses conventional grape bags (called "super seniors" in the business) for most of its grapes, but they've been testing the new bags with some retailers in the Great Lakes area for about a year. McClarty says he plans on expanding the use of the bags to more retailers nationwide this year.
McClarty admits the Slide-Rite bags cost HMC substantially more than the super seniors—about three times more. But he says that as HMC starts using the bags more, the costs should come down.
"I justify [the cost] by saying it's a convenience. We're absorbing most of the cost for this, but I think that it's such a better medium to display the product that the consumer will buy more, simply because of the packaging," he contends.
The Slide-Rite bag can also be considered a natural step forward. Up until about 15 years ago, grapes arrived at supermarkets in big bunches and employees stacked them loose on shelves. Retailers complained of shrink as a result of loose grapes that ended up on the floor or in the bottom of cases. Despite the cost, over time all growers moved to bagging grapes.
A better bag
McClarty initially thought of bagging his grapes in the Slide-Rite bags when he saw baby carrots bagged that way (see Packaging World, Sept. '99, p. 2 or packworld.com/go/carrots). He approached Pactiv with his idea and became the first to bag grapes in sliding zipper bags, although other growers soon followed suit. The carrot bag had to be modified from a pillow-style bag to a gussetted bag for stand-up display, plus Pactiv added holes to the grape bag for water drainage.
Bemis (Minneapolis, MN) supplies the 2?-mil linear low-density PE film that Pactiv uses to make HMC's bags. Bemis also flexo-prints the HMC logo in three colors on the material. Pactiv automatically punches holes in the film, converts the film into bags and applies the Slide-Rite closure with a proprietary in-line heat-seal system.
HMC employees fill the bags manually in the field and ship them to supermarkets, where grocery employees remove the bags from corrugated shippers and place them on the shelf. McClarty says, however, that HMC is trying to cut out all supermarket employee handling of the grape bags. "What we're trying to do is get a display box that will go directly from the field to the consumer without anyone taking them out of a box, moving them around and stacking them on the shelf," he says. "We want to display the grapes in the container in which they were packed in in the field, so people see that farm-fresh look." HMC is currently working with retailers on this idea.
McClarty says he hasn't heard any reaction to the bag from consumers, but he says the reaction from retailers has been positive. "[The bag] saves the retailer money," he says, due to employees not having to twist up the bags to close them, thus crushing the grapes. "The more you handle the grapes, the less chance you have of selling them, and they have to be thrown away. One retailer felt that his store increased its sales substantially, and he attributes that partly to the new packaging," he concludes.
In a hurry? Request more info via Web-based reader service by clicking on the reader service number.
Or you can jump right to their Web site if one is listed.
Companies in this article