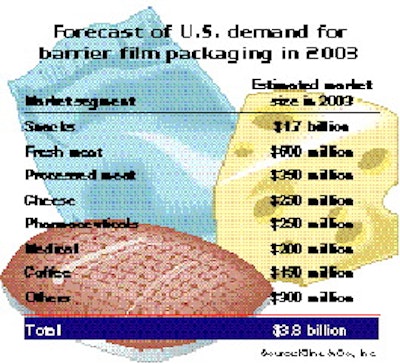 According to a recent study by Kline & Co. (Little Falls, NJ), sales of high-barrier films like the ones used by Mountain Meadows Lamb for case-ready meat are growing briskly. And fresh meat is one of the market segments that's growing the fastest in estimated market size.
"The 1998 market size in the fresh meat category is approximately $450 million, and we estimate it will grow at seven percent and reach $620 million in 2003," says Kline senior consultant Jay Dwivedi. "The conversion of the retail meat industry to case-ready packaging means that there is going to be a significant boost in barrier resin and film consumption. The case-ready meat market has catalyzed new product innovation, including high-oxygen barrier lid stock and low oxygen film technology that protects the product and then allows oxygen to permeate the film to rebloom the purple meat to the desired red color."
The segment with the largest market size, an estimated $1.3 billion in 1998, is snacks. Kline expects it to grow at a rate of 6% to approximately $1.7 billion in 2003. Kline projects the total barrier film market to grow at an average rate of 6% annually to $3.8 billion in 2003.
The full study, "Opportunities in high-performance barrier packaging films, 1998," is available from Kline and Co. for $13ꯠ.
Companies in this article