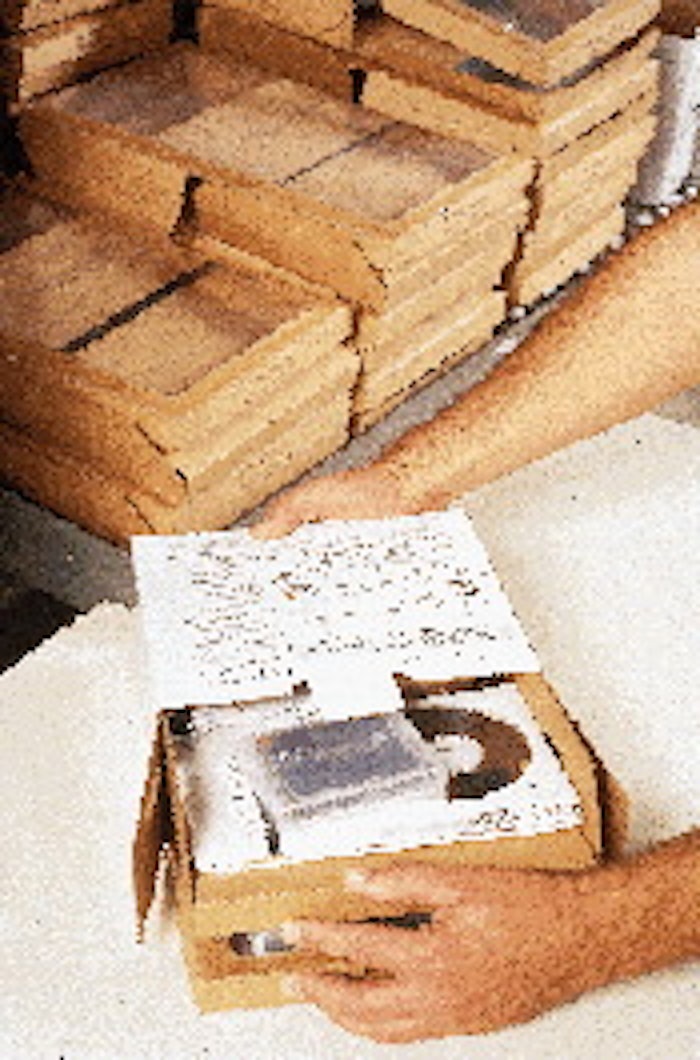 Speed and protective packaging aren't usually thought of in the same sentence. But in the electronics industry, new product introductions and frequent product upgrades make it essential to have protective packaging that can change with the times without damaging the budget.
For this reason and several others, two high-tech manufacturers-Hewlett-Packard and Tektronix-have used very different versions of Sealed Air's (Danbury, CT) Korrvu® protective packaging.
Palo Alto, CA-based Hewlett-Packard chose a clamshell style of Korrvu suspension packaging to protect a new tape drive for computers launched in the last year. But that's not the only reason HP's Colorado-based tape drive division selected this package.
"We're going to release at least five different products a year, and each one can be a little bit different than the previous one," explains David Zessin, the packaging engineer that specified this pack.
Although the packaging materials cost slightly more than the foam packs it replaced, retooling costs for new versions of the package are much lower, according to Zessin. He says that new tooling for Korrvu costs about $300, versus $15ꯠ and up for tools to produce the molded foam packaging that the division had used in the past.
And in many cases, retooling is unnecessary due to the flexibility of the film. In this case, the package accommodated last-minute design changes in product dimensions without forcing a redesign of the pack.
This one-piece corrugated clamshell package traps the small drives, which contain fragile electronics, between the two surfaces of polyurethane film. Protection is better than expanded polystyrene, and its pricing is competitive with expanded polyethylene, says Zessin. The Korrvu pack and other accessories are packed into an outer corrugated box.
Even though the package contains PU film, it is recylable in the corrugated waste stream, according to HP and Sealed Air. As such, it meets the strictest international environmental standards. This was an important factor in selecting the package since these drives are shipped worldwide.
Big boxes
High-tech manufacturer Tektronix, based in suburban Portland, OR, also faced frequent product changes that necessitated changes in packaging, making Korrvu an attractive choice. However, its products, sophisticated audio and video analysis equipment, represent a very different packaging challenge, since each analyzer weighs 63 lb. This is one of the first applications of Sealed Air's suspension technology for such heavy items, according to Wayne Munroe, the Tektronix procurement agent who specified the package.
Each unit is packed between two mirror-image frames that hold extra-thick, low-slip polyurethane film that traps and immobilizes the expensive gear. The entire ensemble is held together in an outer corrugated box.
Compared to traditional Korrvu, "we beefed up the corrugated and we've used a double-layer of polyurethane film," says Munroe, which totals 8 mils. He adds that Korrvu distributor Kent Landsberg, Inc. (Buena Park, CA) was also a key partner in the design of the new package.
With a price tag of about $50ꯠ, each piece of gear needs to arrive in perfect condition. Munroe says the new pack, in use for more than a year, has reduced damage claims from 4% to zero.
"We had one package in Hong Kong that was literally crushed, down to almost the width of the instrument itself," says Munroe. "There was no damage at all to the instrument, which was very surprising to us. We expected a total loss."
The switch from molded foam cushions to Korrvu brought other benefits besides improved damage protection. Since the packaging arrives at Tektronix flat, it reduced storage space requirements in the warehouse by 94%. "We only have to resupply the packaging area maybe once a week as opposed to every single day," says Munroe, comparing the new packs to the molded foam cushions used in the past.
Since the products are shipped worldwide, the change has also eliminated European recycling surcharges. Sealed Air says the packaging is 100% recyclable with the corrugated waste stream. Finally, the packaging itself costs 24% less than the previous foam package.
One of the benefits Munroe appreciates most is that the new package greatly reduces the number of packaging components that have to be stocked. And because the new packaging stretches and conforms to changes in product shape and size, retooling costs have been slashed, though specific figures weren't available.
"It was expensive and time-consuming to retool [the previous packaging] for product changes," explains Munroe. "Now, other instruments that are similar can use essentially the same [Korrvu] packaging with a slight modification."
Companies in this article