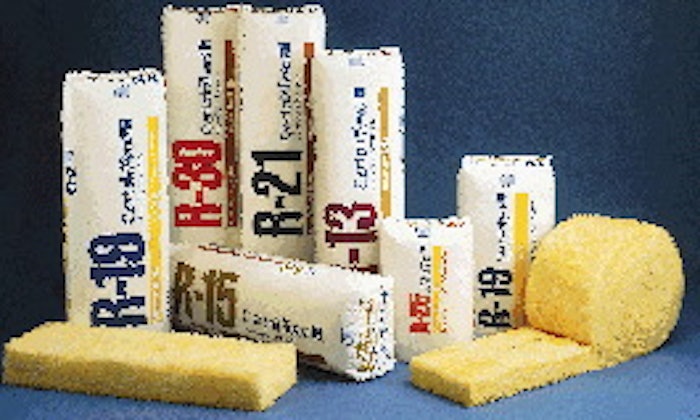 Compression packaging, while unusual for mop heads, has long been used for packaging building insulation materials. Valley Forge, PA-based CertainTeed Corp., one of the leading manufacturers of fiberglass insulation (or as CertainTeed refers to it, "fiber glass"), has compression-packed its products in linear low-density polyethylene film for years.
In early '97, CertainTeed worked with its packaging supplier, Union Camp Corp. (Spartanburg, SC), to experiment with new metallocene-catalyst-based PE films, which were said to permit thinner gauges without a loss in strength. Extensive testing confirmed this to be true. "We were able to downgauge by half a mil with no loss in physical properties," says Ken Knapp, residential product development manager. "We now get as low as two-and-a-half mils, versus three before." Some of the company's insulation products are wrapped in thicker films; those too were reduced by half a mil. Today, the company is three-fourths of the way through converting all of its packaging to the metallocene films. CertainTeed believes it is the first insulation manufacturer to use metallocene-based packaging films.
"The cost reduction is important, along with the gauge," says Knapp. "We're looking at sharing with Union Camp in the range of a ten-percent cost reduction by using these resins."
There are other economies, too: "With the lower-gauge bags, it means on average twenty percent more bags can be shipped on a pallet, which reduces our warehousing costs. Plus we can insert twenty percent more bags in a magazine of the packaging machines, meaning we refill less often."
Knapp states that the new bags handle better, with fewer tears. "Generally the metallocene-resin films tolerate more abuse than the old bags," he says. An unexpected benefit is better machinability. "It's marvelous," Knapp says. "Operators like them better. The bags seem to open easier on automatic equipment."
An environmental benefit is source reduction. For insulation contractors, that means less packaging material that requires disposal.
"In our partnership with Union Camp, we always look to new technologies to enhance our business and our customers' business," concludes Knapp. "Union Camp continues to work on new resin structures to get the rest of the bags converted. The target for completion is by the end of this year or early next year."
Companies in this article