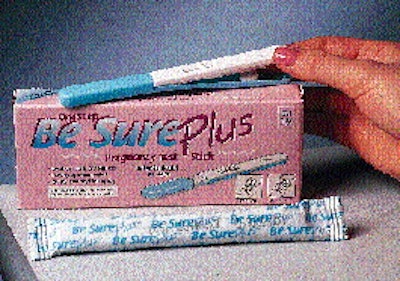 When Carlsbad, CA-based Syntron Bioresearch switched just over a year ago from desiccant pouches to Tri-Sorb® desiccant tablets from United Desiccants (Belen, NM) embedded into its pregnancy testing devices, it did more than eliminate an extra step. It cut down on potential consumer confusion, a few of whom thought the pouch was part of the home pregnancy diagnostic test kit.
"You still have people that don't read instructions," says Syntron general manager Charles Yu. "We hear of some real horror stories where consumers would cut open the desiccant pack, mix it with their urine, pour it into the device and expect some sort of result!"
The test device consists of a plastic housing containing a strip of chemically sensitive material that's susceptible to moisture damage, despite being wrapped in a heavy-gauge foil/film laminate. The function of the desiccant is to protect the strip of sensitive material from moisture damage that could lead to invalid results. Making moisture protection all the more necessary are the many humid environments the kits pass through during distribution. "About 65 percent of what we do we export to southeast Asia, Europe and South America," Yu explains.
Prior to using the tablet, one worker would assemble the test wand and another would add a 1-g desiccant pouch before the wand was flow wrapped. Now one operator assembles the wand and inserts the desiccant tablet, which is about the size of an aspirin and just barely fits inside the plastic housing. Since the desiccant is now inside the wand, consumers don't even know about its existence.
While the tablets cost a little more, "it's worth the extra few cents," says Yu. Future plans call for automatic insertion of the tablet.
Companies in this article