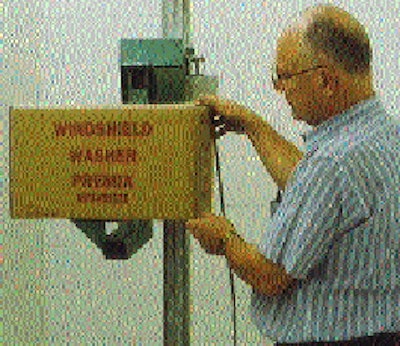 Rule 180 is revolutionary in that it allows packagers for the first time to ship products in performance-tested fiberboard boxes. But the revolution has been slow getting started.
Rule 180 is administered by the National Classification Committee, part of Alexandria, VA-based National Motor Freight Traffic Assn., made up of about 100 trucking representatives who are elected each year by state. The number of representatives depends on state size. Rule 180 serves as a test standard to safeguard less-than-truckload (LTL) common carrier shipments packed in fiberboard or corrugated boxes.
NCC adopted this standard as a general rule (180), that became effective January 21, 1995. Technical corrections have since been adopted. The finalized version became effective April 29. Rule (or Item) 180 provides an alternative to the Test Shipment Permit program (Item 689); and other packaging rules not relating to drums, pails, bags and numbered packages.
NMFTA packaging engineer Jerry Stone says his group "would love" to include these packages. He says that NCC is waiting for interest to be shown by technical committees that represent makers of pails, steel containers and drums.
The new performance standard is aimed at packagers of high-end merchandise. For them, the added protection against damage is well worth the added cost of improved packaging. The standard also applies to less-chic items. Plumbing manufacturers, for example, that despair when a toilet bowl cracks during shipment, may be ecstatic over 180.
If a company uses a 180 box, and the product is damaged, the container is analyzed by an independent lab certified by the International Safe Transit Asso- ciation, Chicago, IL, and registered with the NCC. If that lab finds the box in satisfactory condition, the truckers pay damages. If not, packagers "eat" the cost.
"As damage claims within the trucking industry have been conservatively estimated at $3 billion annually, there exists a significant potential business opportunity to qualified testing labs to perform as arbitrators using the third-party testing concept," NMFTA's Stone says.
"Rule 180 now provides the opportunity for any ISTA-certified package testing laboratory to act as a damage claims arbitrator, or a 'third-party laboratory.' In the event of a disputed carrier/shipper damage claim, the procedure now exists for these matters to be settled through testing by an independent, non-biased third-party laboratory."
Rule 180 requirements are divided into two major sections: the compression/vibration test and the im-pact/handling test. Each section has two sets of tests, A and B. The A section applies to testing labs which have electrohydraulic shakers, while the B section is for the large majority of labs with mechanical vibrators.
Overcoming obstacles
"For those shippers it helps out, it really helps out," says Mary Opfer, manager of technical services for Rolling Meadows, IL-based Fiber Box Assn. "But my view is that 180 has limited appeal." Cost may be a reason. Opfer emphasizes, "this is not a quick fix for economy's sake." Companies hoping to benefit from Rule 180 should prepare to dig deep into their pockets.
Prospective 180 packagers are not yet lining up outside the doors of fiberboard box makers. Shannon Hughes a spokeswoman for Wey-erhaeuser (Tacoma, WA), says, "we have had very few customer requests so far for 180 packaging. It will appeal to a small to medium section of our customer base."
In the past, shippers have had to adhere strictly to a specific set of material requirements for packages. Even the kind of interior padding was set by fiat. There were intricate requirements for products such as television sets, appliances and furniture. These are set out in Rule 222 for truck shipments and Rule 41 for rail shipments. The most obvious change in these two rules involved the addition of an edge crush test as an alternative means of evaluating a corrugated or solid fiberboard shipping container for interstate commerce. As long as shippers' packaging met those requirements, truckers and railroads had to pay any damages arising from product damage during transit.
Over the years, there has been pressure from packagers of merchandise such as fine furniture and appliances who wanted to use packaging sturdier than that specified by NMFTA. Their feeling was that the added cost of a better fiberboard box was well worth it if it reduced the chance of product damage. These firms objected to performance standards for other reasons as well. These included a desire to use more "environmentally-acceptable packaging," and a lack of access to particular packaging materials.
Anyone who wanted to bypass those Rule 222/41 requirements could file for an exemption. Al McKinlay, an industry consultant who serves as chairman of the Institute of Packaging Professionals' carrier regulations subcommittee (of the Distribution Packaging Com- mittee), says it would take upwards of one year to gain such an exemption. And the time and resources spent on developing the necessary data could be crushing.
In discussing exemptions, Tom Lowery, manager of packaging engineering for Ethan Allen Furniture, Danbury, CT, says, "you can make three different quality grades of dressers, for example, and even though one may be considerably sturdier than the others, they all qualify as furniture under the rules, and have to be packed the same way," he says.
The furniture industry was among the most vocal in advocating 180. It's no secret that many of these companies are dissatisfied with its final shape. As an example, Lowery cites specifications for tightly-wound stretch or full shrink-wrap-style shipping units. In addition to meeting the performance standards, packages must have "spans of open space between clearance forms on vertical sidewalls or vertical corners of packaged articles must not exceed 18" in width when inner clearance between outer film wrap and surface of inner article is not less than 1" and total thickness of film prior to stretching is not less than 4 mils. Floor clearance of not less than 3/4", span width must not exceed 12."
Moreover, Lowery thinks the drop tests for packages weighing less than 200 lbs. (there are four categories) are too demanding for some of Ethan Allen's items, particularly lightweight, tall mirrored pieces, shipped standing up. Nor do the performance tests take into account upholstered furniture, where damage is most likely to be caused by punctures and rubbing.
Another problem for Lowery is that any item tested under 180 must be "pre-conditioned," which means it has to be stored at 73° and 50% relative humidity for 24 hours prior to the test. Ethan Allen's in-house lab does not have that pre-conditioning capability at the moment. Lowery says, "It will be costly to revamp our lab's HVAC system."
Companies could have their products tested at an independent lab that has pre-conditioning capabilities. But, Lowery explains, "We have 68ꯠ SKUs. The cost would be prohibitive." In its present status, Rule 180, "was the best compromise we could get at the time, but I hope we will go back and tweak it," says Lowery.
Some companies, such as Weyerhaeuser, have their own labs that are already qualified to do 180 testing for customers.
NMFTA's Stone acknowledges, "We will probably find some of the provisions of 180 are too stringent, and some are too lax. There will be constant adjustments. Our door is open."
c
Stephen Barlas is a Washington, DC-area journalist working on special assignments for Packaging World.
Companies in this article