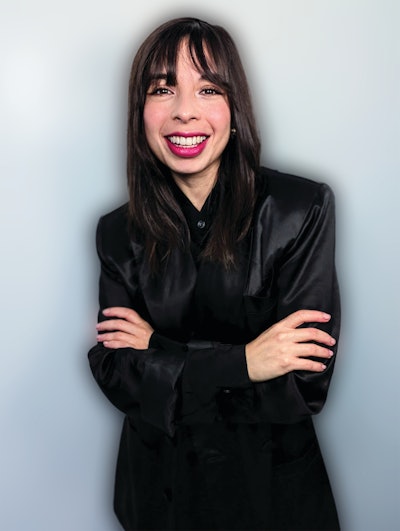 Tell us about your background and how you got into the packaging industry.
I am incredibly fortunate to have been raised by kind-hearted parents who instilled in me the power to make a positive impact on the world every single day. Armed with unwavering belief that I can be a force for good, the courage to step outside my comfort zone, and a passion for STEAM (science, technology, engineering, art and math), I embarked on a journey of studying industrial engineering, specializing in process improvement as a Six Sigma Green Belt. My thirst for knowledge and desire to create a sustainable future led me to pursue a master's degree in sustainability management at Columbia University.
During my time at Columbia, I discovered a passion for packaging and realized the profound effects it can have on our environment and our behavioral patterns. This propelled me to change my own purchasing habits, to reevaluate how I use and dispose of products, and to delve deeply into the study of packaging materials and their end-of-life paths. It was during this transformative period that I had the privilege of working with an extraordinary organization called "Sure We Can," which forever changed the course of my life. There, I gained invaluable insights into the packaging supply chain, particularly the remarkable individuals working tirelessly at recycling facilities.
As my journey progressed, I found myself championing reusable initiatives for various consumer packaged goods companies. It was then that I truly understood the pivotal role of packaging design as a catalyst for sustainability. My journey has evolved alongside the changing industry landscape, which now recognizes sustainability as an indispensable aspect of package design and development. This ultimately led me to my current role at Estee Lauder Companies. Together with my remarkable team and our esteemed external and internal partners, I have the honor of spearheading packaging sustainability goals and initiatives across our portfolio of 20+ brands.
What is the most rewarding part of your job today?
Working with an incredible group of professionals with diverse backgrounds that are passionate about packaging as a tool for good, the opportunity to be a collaboration catalyst and getting to know my everyday actions are aligned with my values of creativity, sustainability, and thoughtful leadership.
What are some of the challenges that you have faced as a woman in a male-dominated industry?
I believe that one of the most significant challenges in any male-dominated industry, regardless of one's gender, is the understanding that "perception is the co-pilot to reality," as eloquently expressed by Carla Harris. This invaluable insight highlights the importance of recognizing the presence of stereotypes and biases within today's workplaces. By acknowledging this issue, both men and women can reflect on their actions and understand how they may contribute to the problem or be part of the solution.
In my personal experience, addressing this challenge has involved investing in self-awareness to recognize and confront my own biases. It has meant honing effective communication strategies that allow for productive dialogue and understanding. Embracing a "yes, and" mindset has also been crucial in fostering collaboration, diversity, and conscious leadership. Simultaneously, it has required the courage to embark on uncharted paths and actively seek out networks of mentors, sponsors, and peers who can provide guidance and support along the professional journey.
By navigating these challenges, we can cultivate environments that promote inclusivity, encourage diverse perspectives, and foster collaboration. It is through such intentional efforts that we pave the way for a more equitable and prosperous future, where individuals of all backgrounds can thrive and contribute their unique talents to drive business success.
What are the unique opportunities for women in this industry?
As someone who, like many others, didn't initially consider the packaging industry as a career path, I strongly believe that there is a unique opportunity for women in the industry to improve how we communicate about the industry and inspire others to recognize its value.
Often, our perception of packaging and its purpose is limited to its functional role of protecting and containing products. However, by reimagining this role and expanding our understanding of how packaging can shape and reflect cultural values, consumer behaviors, and societal norms, we can create an environment that encourages more women with unique and distinct backgrounds to consider the industry as a viable option.
What do you think are some of the key factors that have contributed to your success in the industry?
I think key elements of my success have been my ability to get comfortable with the possibility of being wrong and rethinking failure as critical component of success, feeding my intellectual curiosity and my willingness to listen and learn.
I believe these factors have helped me recognize the limitations of my knowledge and the value in seeking out diverse perspectives and continuously learning from others. They also have helped me build stronger relationships, strengthen my ability to express ideas while remaining open to feedback and alternative viewpoints, as well as act and make decisions in the face of ambiguity.
What has been the most important skill you've developed as you advanced your career?
The most transformative skill I have developed as I advanced my career is the art of managing and leveraging relationships. This skill has been nothing short of life-changing, particularly considering my experience of transitioning careers and adapting to geographical reallocations, which often necessitated cultivating new networks.
Mastering the ability to cultivate authentic connections has unlocked a myriad of opportunities for me. It has allowed me to tap into a wealth of invaluable resources, providing me with access to new avenues for growth and development. Moreover, it has served as a beacon of support and guidance during pivotal moments in my professional journey.
In this pursuit, I have come to appreciate the power of active listening, empathy, and a genuine desire to contribute to the well-being of others. This has proven especially instrumental when implementing and managing change — an ever-present factor in the realms of sustainability and process improvement, as well as packaging innovation.
What can the industry do better to support women and increase the number of women in leadership positions?
To effectively support women and increase their representation in leadership positions, the industry can take several measures that foster inclusivity and empower individuals. It begins with cultivating an inclusive environment throughout the value chain, supported by mentorship and sponsorship programs, robust career development initiatives, and flexible work policies that acknowledge the unique challenges faced by both women and men in balancing professional and personal responsibilities.
A compelling example of fostering inclusivity can be found in Estee Lauder Companies through their Women's Leadership Network. This global community, equipped with chapters worldwide, offers invaluable tools, resources, networking events, and opportunities for sponsorship and mentorship from senior leaders across the organization. Personally, I have witnessed the remarkable impact of engaging with this network and continue to be inspired by actively participating in it, leveraging its resources while also seeking avenues to give back.
Furthermore, it is crucial for companies and organizations to consistently engage with programs and entities dedicated to creating and enhancing inclusive environments. A shining illustration of this commitment lies within the Women's Empowerment Principles. Developed by the UN Global Compact and UN Women, these principles provide guidance to businesses on advancing gender equality and women's empowerment in the workplace, marketplace, and community. By aligning with and implementing such principles, companies demonstrate their dedication to driving meaningful change and supporting the journey of women's empowerment and leadership.
Has there been a woman in your life who has inspired or mentored you? Who was she and what did you learn from her?
Many women have inspired me in my life, but very recently I had the opportunity to see Jane Goodall speak. Though her work has touched me in many ways during my entire life, mentoring me from afar, watching her speak live was extremely helpful in experiencing how strength, grace, and humility can change the world in a very palpable way.
Her presence and humility moved the room and left us all inspired to continue to love and take care of nature. Her commitment to bringing to light new ways of observing nature reinforced how she transformed the world of science by giving a voice to the earth and its inhabitants, continuing to inspire me to remain curious, passionate about my mission and committed to bring storytelling to the world of science.
As a result she continues to be a source of inspiration on how to advance my work in packaging sustainability and how to shape my leadership to inspire change.
What advice would you give to young women who are considering a career in packaging?
To all the young women contemplating a career in the fascinating world of packaging, I'd like to pass the advice I received from a remarkable mentor during the early stages of my own journey: Embrace the fact that you are the captain of your career ship, and let that realization empower you to proactively shape the path that aligns with your professional aspirations. This might mean seeking to have conversations with people in the industry to understand the work they do, apply for diverse opportunities in multiple parts of the packaging supply chain (i.e. suppliers, CPG, material manufacturers, recyclers). As you feed your curiosity, find ways to better communicate your wants and needs.
Keep in mind that success is not an individual pursuit; surround yourself with like-minded individuals who uplift and challenge you to bring out your absolute best and never forget the importance of giving back.