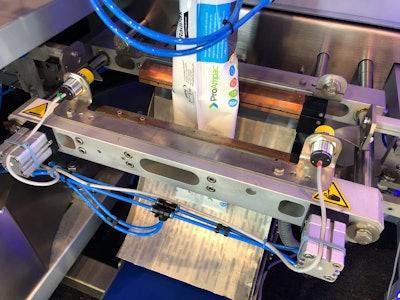 It will be one of the products featured at Engilico's PACK EXPO Connects virtual booth.
Via sensors that are mounted on the sealing jaws, Engilico's SealScope in-line sealing inspection and process monitoring technology detects product in seal, wrinkles, and tapered seals. It also issues early warnings for process drifts enabling preventive machine maintenance. With more than 150 installations worldwide, numerous leading companies in the food, pet care and other industries where sealing is a critical process are using SealScope seal inspection to improve their outgoing packaging quality and reduce their packaging cost.
Our global partnerships with leading packaging system manufacturers guarantee an easy integration of SealScope to deliver optimized packaging lines for your business. SealScope integrates or partners with major brands such as BW Flexible systems (Hayssen, Sandiacre, etc.), PPi Technologies, Toyo Jidoki, SN Packaging, LeePack, Fuji Packaging, Omori, HDG, GEA, VolPak, MesPack, ILAPak, Rovema, and more.
---
PACK EXPO Connects–November 9-13. Now more than ever, packaging and processing professionals need solutions for a rapidly changing world, and the power of the PACK EXPO brand delivers the decision makers you need to reach. Attendee registration is open now.
---
Companies in this article