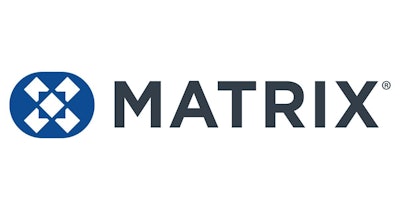 Matrix will debut its newly designed MVC-300, a continuous box-motion bagger with the latest high performance servo system for unprecedented precision motion control. Together this allows users to run a variety of films at faster speeds and with better accuracy. Updates also include enhanced remote connectivity for service, updates, and diagnostic capabilities without danger of facility firewall compromise.
The MVC-300 (which stands for Matrix Vertical Continuous Motion/300 mm Wide Jaw) uses a continuous-motion, high-speed jaw system that is unique from other vf/f/s machines because the film never stops. The jaw system cuts the film and provides just enough dwell time for the three bag seams to properly seal. This innovative feature allows users to achieve higher fill rates.
At PACK EXPO, the MVC-300 will be paired with a Yamato Alpha Advance Series combination scale that fills candy into newly created bags. The candy will be packaged using film from CL&D, a ProMach brand, and those packages will be packed in a case erector and sealer from Wexxar Bel, a ProMach brand.
Other machinery on display will be Matrix's Elete Premier and Matrix Mercury vf/f/s machines as well as machines from Pacraft (formerly known as Toyo Jidoki) and INVpack.
Companies in this article
Videos from Matrix Packaging Machinery