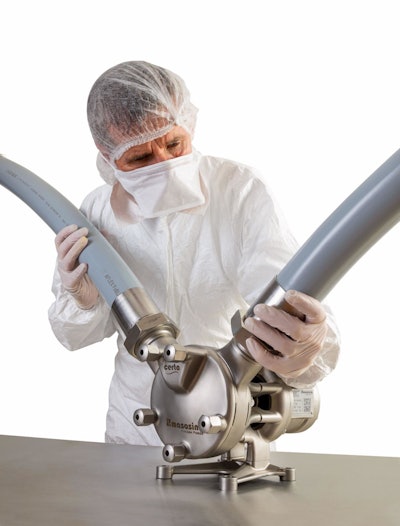 Used in many stages of food and beverage processing from unloading raw material to a storage tank, through transfer to a mixer/agitator/reactor/cooking vessel, to final transfer to the filling line, Watson-Marlow's Certa pumps maintain yield and increase output.
This advanced innovation in food pump technology delivers high suction capability to handle viscous products, offering significant advantages over alternative technologies. Unlike traditional pumps with rotors that cut through the fluid, Certa's sinusoidal rotor gently carries fluid through the pump to dramatically reduce shear, while cutting power consumption by up to 50% with high viscosity fluids. With 3A certification as standard, users can be assured that chocolate, cheese curd, soft fruit, sauces, and pie fillings are pumped without degradation.
The Aflex FaBLINE hose is a food-grade flexible hose developed to meet the latest hygiene standards. The patented PTFE-lined hose with standard 316 stainless steel braid ensures efficient product transfer and handling while simultaneously offering longer life than rubber hose alternatives.
In addition to the benefits such as increased service life, reduced maintenance, less CIP downtime and lower processing costs, FaBLINE offers excellent liner flexibility in a kink-resistant design that requires less force to bend than competitor smooth bore products.
Furthermore, the product carries up to twice the flow of similar-sized convoluted delivery hoses, providing a faster, more efficient processing solution.
Companies in this article