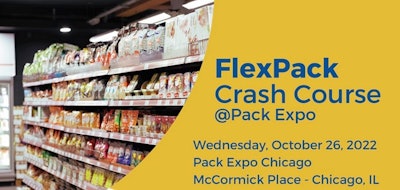 Flexible Packaging Association's FlexPack Crash Course will be held at McCormick Place on Wednesday, October 26th, at 9:00 AM (CT). Key topics will include:
• Industry Overview & Trends
• Materials & Converting Basics
• Sustainability & Advocacy
• Package Design Workshop
The presentations will provide a high-level overview of the flexible packaging industry. We'll cover market trends, sustainability, the legislative and regulatory environment, as well as a high-level overview of technical fundamentals including flexible packaging materials, substrates, and converting technologies.
Travel and accommodations must be covered by the attendee. All costs for attending the course and evening networking event will be sponsored by the FPA.
For the course brochure and registration information, visit the event webpage.
Companies in this article