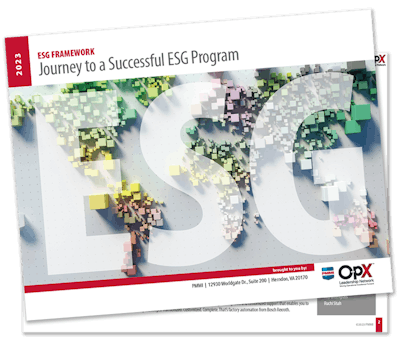 Sustainability is no longer a buzzword but a strategic imperative to do the right thing by the planet, enhancee reputation, reduce costs, and ensure long-term viability. Along with consumer packaged goods (CPG) companies, contract manufacturers (co-mans) and contract packagers (co-packers) must embrace Environmental, Social, and Governance (ESG) initiatives for their part of the supply chain.
At PACK EXPO Las Vegas, the OpX Leadership Network released its newest work product, "ESG Framework: Journey to a Successful ESG Program", which lays out the roadmap to sustainability. The document can help a company, no matter where it is in terms of sustainability, create goals to match its situation and abilities, and then to do more.
How can co-mans and co-packers be environmentally sustainable?
Co-mans and co-packers should start with the basics, which are understanding how you rank among your peers and low capital expenditure (capex) approaches that address the environmental sustainability concerns of their customers.
"One way to start is to look at the customer's sustainability reports. What's in that those sustainability reports and is viewed as a priority? Co-mans and co-packers should know their contribution to the carbon footprint of the product that they are asked to produce," says Roy Greengrass, president of The ESG Group, an ESG consulting company.
Greengrass, a previous OpX member with decades of experience as an engineering director for several CPGs, including Impossible Foods, contributed heavily to the ESG work product. He says specific goals should be tailored to the materiality matrix of the specific co-pack and what technology it has in use. Common objectives among contract services are waste minimization, zero or reduced waste to landfill, and carbon footprint reduction.
Transparency on sustainability goals and progress can help CPGs find co-mans or co-packers who line up with their ESG initiatives. Greengrass suggests co-mans and co-packers can consider certifications like ISO 14001 and GRI global reporting standards, depending on their size and customer expectations. However, at a minimum, they should be publishing a sustainability report on carbon environmental impact.
Are your operations socially sustainable?
Social sustainability goals can be broken into three sections. The first focuses on employee well-being, welfare, and retention. Data sources that businesses should already have include HR records, safety records, turnover rates, safety policies, labor standards, and diversity. Co-mans and co-packers should aim to create a safe and inclusive workplace.
Beyond the internal are external goals, such as encouraging voluntary community work among employees, charitable donations, and contributing to the community. The third section is focused on supply chain, which includes awareness of how socially sustainable a company's sourcing and production is, along with tracking of products and materials.
"Start where you have the most influence and control, which is within your own four walls. So occupational health and safety, employee engagement, [and] human rights. And then extend to outside, so impacts on communities, where can we extend supplier code of conduct, things of that nature that we expect from external parties," says Jared Ward, sustainability consultant at Antea Group, a non-profit environmental consulting firm, and contributor to the ESG work product.
How important is governance in sustainability?
Governance is centered on transparency and effective decision-making. Co-mans and co-packers should demonstrate reliability and transparency in their accounting and manufacturing reporting systems. A co-man or co-packer's trustworthiness is also increased when it can demonstrate that decision-making is inclusive, considering the input of customers, workers, suppliers, and even the community, as best decisions are made when stakeholders come to a consensus, according to Greengrass.
"Being able to share the business case, your ESG roadmap, important targets and metrics, and so on with your stakeholders is going to be critical. The greater extent that a CPG is able to share and create that kind of awareness with its co-packers or contract manufacturers, it's going to help them understand what their role is in the whole process. This document is the foundational elements of ESG, and the greater extent that they're in place, the greater the likelihood that you'll have a successful outcome," says Steve Perry, co-founder and coach at FSO Institute and concept creator of the ESG work product.
Perry adds in explaining that the individuals in the solutions group for the ESG work product expressed that there is a gap between what a given company says it will do and what it actually does, which is also true from the community and the consumers. He says the industry needs to work at tightening that gap, which can only be accomplished through transparency and evidence based in fact.
"Having that appropriate governance structure with accountabilities and ownership to track that performance over time and make sure we're going according to our plan is vital, because the G in my mind is really what enables the E and the S, keeps us on track, makes sure we're accountable for those targets that we've set out, and enables that whole process to achieve those goals," says Ward.
Why Embrace ESG?
Embracing ESG initiatives offers numerous benefits, including:
Enhanced reputation and brand, which leads to additional sales and top-line growth
Improved operations through better employee retention, engagement, and productivity gains
Lowered costs by reducing energy consumption and innovation and optimization of manufacturing processes and supply chains
Reduced liability risk across all aspects of business
Long-term relationships with partners through collaborative learning and utilization of best practices
Financial benefits, as sustainable organizations or product lines continue to outperform, according to research found by Ward
Meeting consumer demand and stakeholder pressures for sustainable products
Perry emphasizes that ESG is a comprehensive approach that aligns with what consumers are increasingly demanding. The ESG work product serves as a mall map, showing each company and contract service where it is—no matter the door it used to enter—and the path to get to where it wants to be, with counsel on short-term and long-term goals that are situationally specific.
"Some 12 years ago, everything was centered on the triple bottom line. To improve people's lives, to help the planet, and to make companies profitable—what a worthy goal," says Perry. "And now it's just showing up in this new nomenclature called ESG, which is much more comprehensive, with better metrics, more focused, and it's more actionable, quite frankly."
Download the document from the OpX Leadership Network here.
Companies in this article