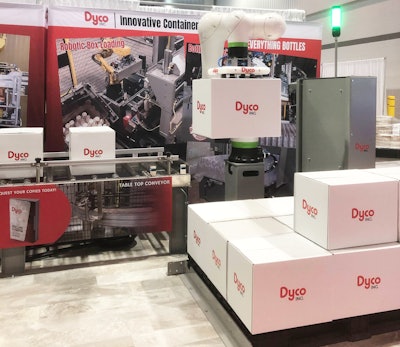 Dyco
A specialist in plastic container handling systems, Dyco was showing off a system outside of its usual space at PACK EXPO Las Vegas, introducing a collaborative box palletizer in a small footprint.
Dyco has a strong foundation in the bottle industry—loading empty plastic bottles, in particular, into boxes. "More often than not, we were dealing with open boxes and loading them, and then moving on to the next phase," says Mark Lovelace, chief marketing officer for Dyco. "Now those customers are asking us to palletize those boxes, so this was just the next extension."
This development carries Dyco's work not only from bottle handling to box handling, but also from empty bottles to full, Lovelace explains. "We have empty plastic where we load the bottles in the box, and then you close the box and ship it. But a lot of times those people who've received the bottles take the bottles out the box, fill them, and put them back in a box," he says. "So we're now offering it to go the full side and the empty side. And it's just an extension of our product line."
Though full bottles in a box create a considerably higher payload than empty bottles do, this is just a matter of choosing the right robot for the application, Lovelace notes. In its booth at PACK EXPO Las Vegas, Dyco showed off a version of the palletizer with a Fanuc CRX-25iA collaborative robot (cobot) at work. "We have a strong relationship with Fanuc and they're one of the best robots in that space," he says.
With Dyco's particular expertise in handling all types, sizes, and shapes of empty plastic bottles—and all the unique challenges that presents—the company's offering in box palletizing opens it up to a much broader range of industries, Lovelace notes. "We have a great skillset, and we can do this very well in the bottle industry," he says. "We're willing to go outside of that, but we're still trying to stay true to ourselves."
Companies in this article