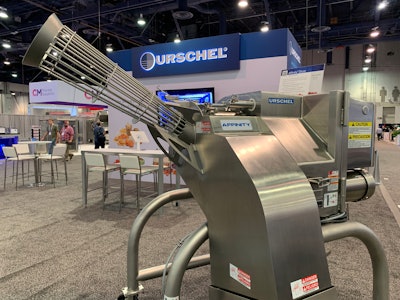 Michael Costa
Urschel rolled out an updated version of its Affinity dicer at PACK EXPO Las Vegas, with a focus on saving labor through an open designed conical hopper, eliminating the need to reduce the length of preformed meat logs before being fed into the machine.
"Before this, processors would have to take the preformed log of salami or pepperoni, for example, chop it up, and put it into the machine," says Steve Smock, regional manager at Urschel. "This can take four-foot logs now through the intake and cut them before they're sliced or diced by the machine."
The Affinity dicer also features a sanitary stainless steel design, and the food zone inside the machine is completely separate from the mechanical zone. The rounded tube frame limits microbial surface area and promotes self draining.