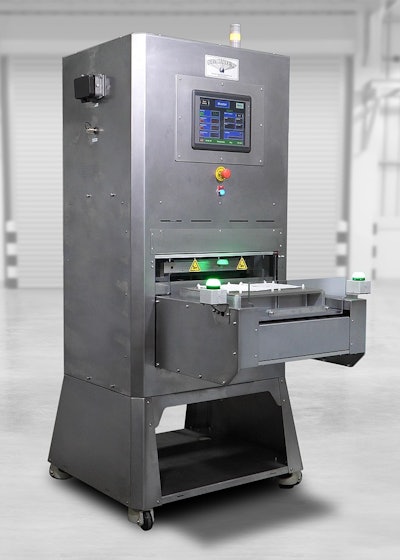 At the Starview Packaging Machinery Booth C-3600, a featured machine was their semiautomatic all-electric medical device sealing system, the Model SB/PH1-1418e. "Requiring no compressed air to drive pneumatics, it eliminates the need for a filter, and it's cleaner," says Starview director of sales Rob van Gilse.
An Omron PLC makes this an intelligent machine that allows changes or upgrades from Starview-provided flash memory.
Another thing about the machine that got the attention of more than one booth visitor is that it has its own internal load cell. "When medical device makers validate their machines, they try to see what kind of pressure the machine says it's exerting compared to what is actually produced," says van Gilse. "So they'll stick a load cell in the press and turn it on, and they'll measure to get a digital readout. But with this integrated load cell, it's easier for them to do validation because the load cell ensures the pressure is accurate and stable with each cycle.
So that load cell is measuring every single cycle versus a random check. This provides 1% pressure accuracy."
Safety features include an auto shuttle feature with two-hand touch. The operator loads the medical device tray, loads the device into the tray, puts the Tyvek lid stock in place, and puts both hands on the start buttons to actuate a sealing cycle.
Companies in this article