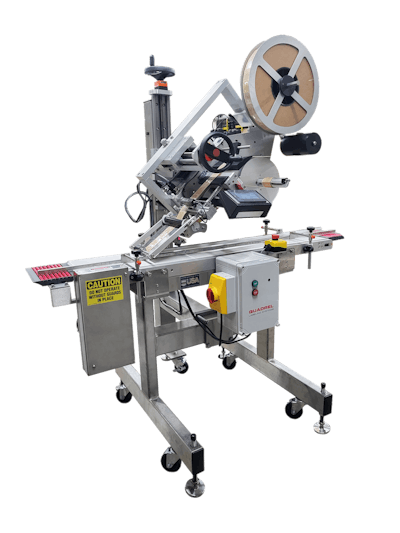 At its PACK EXPO Las Vegas booth, hang-tab and POS display solutions company Do-It Corporation is exhibiting its Automatic Hang Tab Applicator System by Quadrel, engineered for large-volume, hang-tab application jobs. The U.S.-built applicator is designed to automatically apply Do-It Roll Form Hang Tabs at speeds to 100 packages/min and can be adjusted to apply a variety of different Do-It Hang Tabs styles onto various package sizes and shapes. The system can be used to apply hang-tags to food, personal care, stationary, pet, apparel, and other fast-moving consumer goods products.
The compact system, which includes a label head applicator and a synchronized conveyor, is designed to stand alone, or it can be incorporated into existing production systems. According to Do-It, the unit is simple to set up and operate and can be moved easily via castors, with jacking feet keeping the system steady and in-place during production runs.
The system's conveyor belt is made with a grip coating and measures 10 in. W x 4 ft L, with infeed, and outfeed, roller plates. The height of the conveyor can be adjusted from 31 to 36 in. Product guiderails can be adjusted across the width of the conveyor to accommodate a variety of product sizes. In addition, the applicator head, which includes mechanical position indicators, can be adjusted horizontally and vertically over the conveyor. According to Do-It, the system's Siko dials allow for easy positioning of the applicator head for recurring production runs.
The unwind roll area on the application system can handle both 3-in.-core rolls and 6-in.-core rolls with a maximum outer diameter of 16 in. A larger, 4-in.-dia dancer arm roller helps keep thicker hang tabs from pre-dispensing. This dancer arm does not allow the unwind to release until it moves forward, keeping proper pressure on the web path. To read clear hang tabs, the system uses a Tri-Tronics CLSC ultrasonic sensor, while a Banner Q4X laser sensor reads products coming down the conveyor.
To accommodate various hang-tab styles and sizes, the applicator system is equipped with a 7-in.-wide peel plate that can be adjusted by height and angle. After the hang tab has been applied onto the package, a wipe-on roller applies pressure onto the hang tab helping to secure the it to the product.
The entire system operates from the Maple Systems touchscreen, which Do-It says is simple to set up and easy to use. In addition, a detailed, thorough, product manual is provided with each machine.
Companies in this article