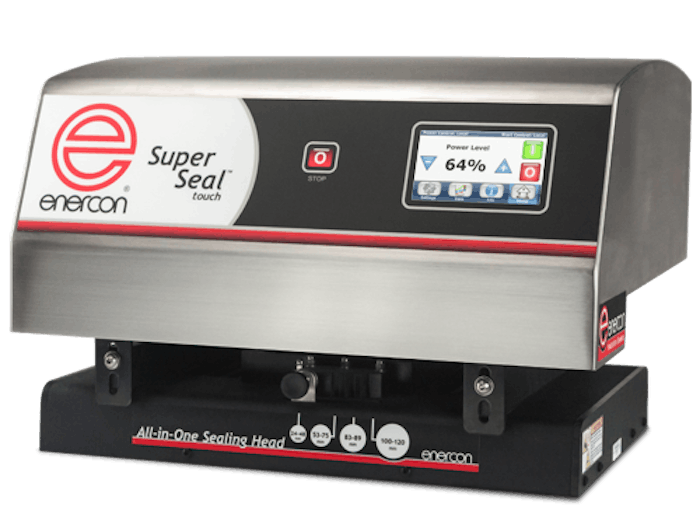 Enercon
At PACK EXPO Las Vegas 2021 this week, Enercon introduces its new All-in-One sealing head now compatible with the company Super Seal™ 300, 400, and 600 induction cap sealers.
According to Enercon for packagers sealing a wide range of containers, the Enercon's All-in-One sealing head design offers tremendous flexibility, allowing operators to optimize the induction field to achieve a perfect seal across an entire production range.
"Our prior All-in-One sealing head, while effective, relied on operators to pivot the sealing head into the correct position. To eliminate confusion, Enercon adopted its ingenious design used on our more advanced sealing systems," says Enercon Vice President of Sales, Ryan Schuelke.
The new All-in-One Sealing head simplifies the set-up process allowing operators to use a positive locking mechanism and easy-to-read label to set the sealing head position correctly, eliminating guesswork.
The system is ideal for sealing a wide range of cap sizes up to 120mm.
"For the first time ever, our baseline induction sealer is the most equipped and full-featured system on the market. With the previous innovations made to the new Super Seal™, the system offers packagers innovative new features that were previously only available with higher-end production models" says Schuelke. 
Enercon manufactures induction cap sealers which are recognized around the world for providing tamper evidence, preventing leaks, and preserving freshness with hermetic seals for packagers of food, beverage, pharmaceuticals, health & beauty products, chemicals & petroleum packages.
Companies in this article