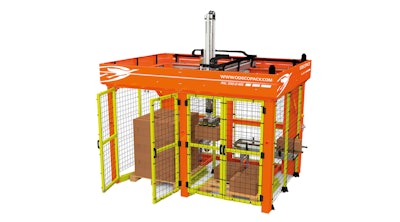 In an authentic milestone for the Colombian robotic technology industry for packaging and processing operations, Odecopack is the first automation technologies for production lines manufacturer from the South American country to participate as an exhibitor in the biggest world tradeshow in packaging and processing technologies, PACK EXPO.
Odecopack's presence at PACK EXPO Las Vegas (September 27 – 29), is even more significant due to the technological solution they will be showcasing in their booth: a palletizing robotic cell designed by Colombian Engineers, assembled using components from leading fabricators including Omron, Festo, and Gates; it was test-runed in the United States and is already being used by multinational CPG brand owners in countries such as Mexico, Costa Rica, and Guatemala. "We are the first Colombian company to bring robotic technology to this important global tradeshow, which for us bears a great responsibility", Luz Elena Franco, general director of Odecopack, told Mundo PMMI.
Thinking big for medium and small companies
Since nearly a decade ago Odecopack, with a history of 30 years in engineering solutions for processing and packaging lines, decided to specialize in end-of-line processes, as a participant and researcher of advanced machinery and technology developments. In parallel with representing leading German technological brands in Colombia, they explored the design and development of automation solutions, an effort that through the last five years brought them to materialize the robotic palletizing cell displayed at the Las Vegas exhibition in booth C-4600.
This project has been backed by the leadership of Sebastián Orozco, international sales director for Odecopack, who details the differentiating factors their technology brings to the table and a few of the advantages end user companies will gain: "Our technical development of the control software for this equipment allows us to offer, in a simple mechanical system, considerable capabilities and reliability", commented Orozco. "Furthermore, in the development of the cell shown at Las Vegas we achieved a balanced relationship between performance, pricing, and delivery times, which provide the machine the ideal properties it needs to adapt to the needs of medium or small companies looking into automating their palletizing processes but have not found options with mid-range capabilities and investment values within their markets."
The configuration provided by Odecopack becomes an attractive alternative to other solutions offered by leading suppliers, generally designed for larger volume operations in which return on investment is reached sooner. "When we ran a financial analysis for small and medium-sized production scenarios with foreign automation technologies versus manual operation, we found those projects to be unviable", comments Orozco. This derived in Odecopack senior executives deciding —based on our technological capabilities, the expertise of our work team, and the tools available— that our company was in the capacity to build equipment to meet this demand. "We knew that it would take time, but we would achieve it, and here we are today."
An assembly of the best options
In the manufacturing of this robotic palletizing cell, components such as the machine's main structure (made by Odecopack in Colombia) come together with elements developed in the United States, leveraging the advantages that are available to offer up this solution at a competitive market price. The robotic palletizing cell's basic configuration may be complemented with options offered by Odecopack and adapt to the levels of automation and specific or special needs each client has.
Recently in the United States, Odecopack initiated the assembling and testing of the model they will showcase at PACK EXPO Las Vegas. Their international presence has also been cemented by the incorporation of the company in Spring, Texas, projecting an active presence in the US market and facilitating a prompt service of demands from Mexico and Central America.
"After five years of developments for different applications, markets, countries, and cultures, the result has been fairly positive and competitive", the company's director assures, while he underscores the important contribution of Colombian engineering to this development. "Despite the existence of previously made standards and tools in our market, Colombian engineers who develop applications in robotics, programming, and automation, are rather resourceful when it comes to solve complex problems", he points out.
This convergence of human, technological, and computer capabilities, is what gives this new robotic automated palletizing solution from Odecopack the ability to add aggregate value to the supply chains of packaged consumer goods companies with a short-term return on investment.
Versatility, productivity, and safety
Reducing machine footprint on manufacturing plants has been a driving concept during the design process of the robotic palletizing cell for Odecopack, to which they added a prominent level of adaptability for pre-existent manufacturing lines, and a simple and safe operation. "Compared with a robotic arm, its design is more compact", Orozco points out before explaining in detail some of this new equipment's functionalities and properties.
Motion: Cartesian equipment that mainly perform lineal movements, are not recognized by the industry for providing high speeds. The robotic palletizing cell made by Odecopack, however, overcomes this drawback with the improvements made by the company's engineers regarding trajectories, which result in an overall improvement of palletizing operations. "This piece of equipment can execute gentle movements, very similar to those of a robotic arm, which normally cannot be achieved with a Cartesian system, which demands a lot more time in software development", Sebastián Orozco explains.
These improvements are the fruit of the collaborative work of Odecopack's engineering team and their colleagues at the industrial automation solutions supplier Omron, striving to fully take advantage of the Sysmac software. "Simply, the fact that these parabolic movements were achieved, where there is a great deal of variables coming into play, optimizes cycle times and, in the end, translate into significant reductions in palletizing times", Orozco states. On the other hand, its use of technologies like Omron's facilitates interconnection with other machines, as well as operation by a plant employee with basic knowledge, besides the support and guarantee from a world-renowned vendor.
Load capacity: Harnessing the proven technology of world-wide provider of automated solutions, Festo, Odecopack integrated a single-action cantilever axis, with a 30-kilogram load capacity, into their robotic palletizing cell. "The simplicity and reliability of the technology provided by Festo, and their development of this system, have allowed us to increase the machine's load capacity while somewhat enhancing speed and easing maintenance in a significant way", Sebastián Orozco explains.
Grip: Using compressed air, which is commonplace in most industrial plants, handling of the product is performed by a vacuumed effector (gripper), characterized by its stability, and simple installation and maintenance. The employed system adapts virtually to any type of box or package. "The versatility of this equipment avoids any problem brought by diverse cardboard qualities and gauges, as well as those cases when a torn or badly-taped box enters the line", explains Orozco. He informs us that the maximum capacity of the effector in the unit showcased at PACK EXPO is 35 kilograms. "Depending on the clients' needs, we can customize the effectors properties, but the one offered as the standard option sufficiently meets the needs of usual applications in our markets", the sales director for Odecopack points out.
Configuration: The robotic palletizing cell from Odecopack may be configured as a single or double solution, in response to a variety of needs and production volumes. In its single version, the same product reference from a processing line is palletized, either with manual or automated stowage replacement. "An automatic stowage dispenser can be placed beside the cell, holding 15 empty pallets; the system will pick them, one by one, and place them in the palletizing cell. The cell forms the pallet and delivers it, completely built. It is a fully automated solution for a single pallet positioning", Orozco clarifies.
In the double option, using the same Cartesian robotic system and a single arm, there are two palletizing stations receiving one line's production. "The robot first palletizes on one side, and when the stowage is completed an operator with a trolley must intervene to manually retrieve it; meanwhile, the robot is working on the other side", Orozco says. This semi-automatic option, with human and machine interaction, allows for process continuance avoiding line stoppages and the accumulation of products; besides, it can be applied to two continuous processing lines, where the cell organizes the stowage regardless of them delivering different products or requiring unequal palletizing patterns. "In essence, it is all about what the linear speeds are, as well as the levels of optimization clients want to achieve", Orozco summarizes.
Maintenance: The ease of maintenance is another feature of the robotic palletizing cell showcased by Odecopack at PACK EXPO Las Vegas. They have designed this allowing for in-house upkeep, with the client's employees. "We train our clients' technicians so they gain the necessary autonomy to resolve situations that may arise during operation, and they are able to repair any damaged component", the sales director for Odecopack claims.
Safety: One feature Sebastián Orozco particularly underlines when he talks about the palletizing solution from Odecopack is operational safety. In addition to developing a fast, simple, robust, and reliable piece of equipment, it also meets several international safety standards. "We meet the safety category number 3, which is reasonably high, and we have the ability to improve it depending on the client's needs, which gives us a considerable advantage."
"We take people's and operational safety very seriously, that is why we install a last-generation secure CPU in all our palletizing systems, apart from the PLC control unit, to ensure the detection by the machine of any possible failure. Also, our palletizer includes three emergency stop buttons around its structure, as well as security sensors built into the access gates", he adds.
Open roads
The exhibition of their robotic palletizing cell at PACK EXPO Las Vegas is raising considerable expectations amongst Odecopack's work team, and every area of the company is getting prepared. They are backed by the trust built throughout a solid path of developing cutting-edge technologies, and a work team which has grown alongside the company. "We will put our best efforts into making a solid presentation and we are in Las Vegas with the goal of opening markets for our solutions", Franco concludes.