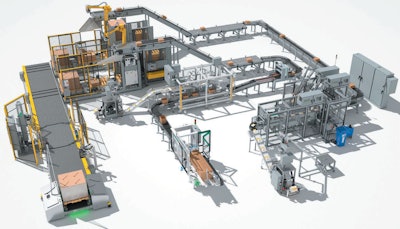 Show Daily
Show Daily Exclusive -
In the Central Hall, showgoers can view an integrated line packaging mints. The fully functional line showcases ProMach's ability to merge two or more of its product brands to create one streamlined system.
The integrated packaging line features multiple ProMach product brands, including Wexxar Bel (Booth C-3031) and ID Technology (Booth C-3214) and spans two booths: Matrix (Booth C-2829) and Quest (Booth C-2825).
Mints are weighed on a scale from Yamato (Booth SL-5949) and released through a forming tube into a pillow bag created from rollstock film on a Matrix Morpheus vertical/form/fill/seal machine. The Morpheus machine is paired with a Compact 53C thermal-transfer printer from ID Technology to code the packages.
A conveyor then moves packages, each containing five to six mints, to a Matrix EC-E checkweigher for a final weight check before action by a Quest Quik Pick QP200 robotic case packer, which relies on two Delta-style robots from FANUC America (Booth C-1441). The robots pick packages from the conveyors and top-load the mints into cases. Case are fed by a Wexxar Bel WF 20 fully automatic case former.
The cases continue their journey to a Wexxar Bel 250 fully automatic case sealer for sealing and then move to the final step of the live demonstration: robotic palletizing with a Quest Box Bot. The Box Bot is a space-saving robotic palletizer that allows an operator to quickly and easily design and produce exact pallet patterns for bags, boxes and other product types.
Show attendees will notice the small footprint of this integrated line; it does not take up a lot of space and it can be made more compact, if necessary.
Projects like this allow customers to have one point of contact that serves as a one-stop, full-service provider by connecting all the ProMach brands together.
This level of project management greatly streamlines the planning process, installation and start-up curve for packaging lines.
ProMach consists of 42 packaging and automation-focused companies in multiple categories, including systems & integration, filling, bottling & capping, decorative labeling, flexibles & trays, handling & sterilization, labeling & coding, robotics & end of line and pharma.
For more info, visit www.idtechnology.com, www.matrixpm.com, www.wexxar.com, www.questindustrial.com, www.yamatoamericas.com, www.fanucamerica.com.

Companies in this article
Videos from Matrix Packaging Machinery
Videos from FANUC America