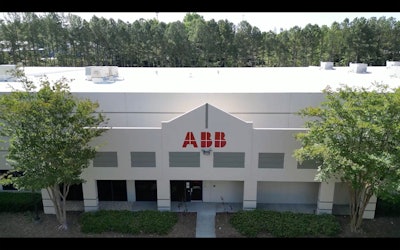 This content was written and submitted by the supplier. It has only been modified to comply with this publication's space and style.
"We are delighted to open our new robotics packaging and logistics headquarters in Greater Atlanta, home to some of the world's largest packaging and logistics companies," said Sami Atiya, president, Robotics & Discrete Automation at ABB. "With global mega trends including direct-to-consumer commerce and labor shortages driving demand for robots as companies look to move their operations closer to home, there is a growing demand for dedicated support and expertise from our U.S. packaging and logistics customers. Our new facility, supported by our manufacturing facility in Auburn Hills, Mich., will help us meet this need by providing our customers with the latest, AI-enabled robotic solutions that improve their flexibility and productivity, while strengthening their resilience and ability to operate more sustainably."
With some of the world's largest packaging and logistics companies based in and around Atlanta, the facility will serve as a hub for collaboration between ABB and its customers and integration partners. Together, this ecosystem will design and develop the next generation of AI-enabled robots to transform the packaging and logistics industry and help U.S. companies meet new demand, build resilience, and remain competitive. Training will also be available for ABB employees, customers, and integrators to help them develop skills needed to program, operate, and maintain robots in logistics and packaging applications.
As part of a wider $22 million investment by ABB Robotics in the U.S, that will create more than 70 jobs, this is the latest specialist robotics center, dedicated to developing new solutions, products and technologies. It will operate alongside the company's Lifesciences and Healthcare Lab in Houston, ABB Robotics' manufacturing facility in Auburns Hills, Mic., and the ABB Robotics Research and Development lab in San Jose. The investment furthers ABB's commitment to addressing the increasing demand for automation in the U.S. as more companies seek to re-shore their manufacturing and distribution operations. North America is already the second largest market for new robot installations with 41,000 robots installed across the U.S. in 2022.1
With 40% of U.S. transportation and logistics companies lacking staff to carry out low skilled manual tasks2, solutions like ABB's family of autonomous mobile robots with Visual SLAM technology or AI-enabled robotic item picker can help companies overcome labor and skills shortages. Capable of making intelligent decisions in dynamic environments, these solutions can take on dull, dirty, and sometimes dangerous tasks to free people to do more rewarding work.
---
1International Federation of Robotics
2 ABB Robotics Global Business Survey, 2023
Companies in this article