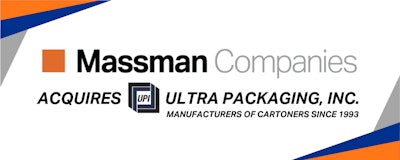 Ultra Packaging, Inc. (UPI) is a designer of vertical and horizontal automated cartoning machines that serve the food, personal care, pharmaceutical, and cosmetic industries. These machines are high speed continuous motion machines in multiple configurations, from manual to full robotic loading.
The addition of UPI's cartoning products to Massman's broad portfolio enables full-line solutions from carton or bottle to pallet. Customers can purchase connected packaging equipment from Massman, simplifying the design, equipment layout, purchase, service, and equipment warranty.
"Companies are increasingly looking for efficient solutions to improve output and lower costs," said Jeffrey Hohn, President and CEO of Massman Companies. "Cartoning, shrink wrapping, and case packing are three technologies often performed together. Massman's offering of reliable and robust products in all three categories simplifies our customers' path to automated packaging".
Bob Stockus, Owner and President of UPI, said, "I am thrilled that UPI is now part of the Massman family of packaging machinery solutions. The resources Massman can provide will build and expand the customer partnerships."
Massman Companies will bring together sales, customer service, and engineering teams to seamlessly serve the customers of both organizations.
Companies in this article
Videos from Massman Automation, a Massman Company