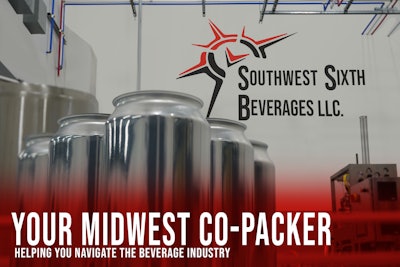 With decades of combined beverage production and packaging experience, the directors of Southwest Sixth Beverages know what it takes to bring a product to market. Their experienced professionals will work with customers to co-pack their alcoholic or non-alcoholic beverages in cans, glass, and plastic bottles.
Southwest Sixth Beverages seeks to save beverage producers money, time, and space. By outsourcing their beverage production and packaging, entrepreneurs save valuable capital by eliminating the need for significant investments that may accompany purchasing equipment. With a central United States location, partnering with Southwest Sixth is an ideal solution to rising shipping costs for national beverage companies. Whether accelerating the time it takes to bring a new product to the market or increasing inventory space, there are numerous benefits associated with using this emerging Midwest co-packer. Additional services include product design and development assistance, TTB compliance recommendations, material sourcing, and distributor launch coordination. Production services include distillation, blending and mixing, custom bottling, canning, packaging, and logistics assistance. Southwest Sixth holds a Nebraska Liquor License to distill, blend, package, and fortify a wide range of alcoholic beverages and canned, bottled, or bulk packaged beverages.
"Our goal is to follow through on what we say, deliver quick turnaround times, and offer competitive pricing. We begin by committing to a Mutual Non-Disclosure Agreement (MNDA) to ensure your products, and concepts, are kept confidential and private. It's important to us that each customer is treated with respect and honesty to foster a mutually beneficial, long term, working relationship. Whether you are starting with a simple idea or already have a well-established brand, Southwest Sixth Beverages can assistance with procurement, production, blending, canning, bottling, warehousing, and shipping requirements through our dependable network of industry connections," stated Bruce Kucera (Managing Member).
Companies in this article