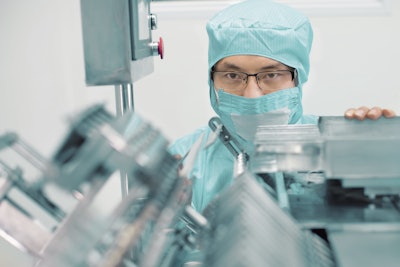 If the pharmaceutical industry had a theme song it would be "Under Pressure" by Freddie Mercury and David Bowie.
From the high cost of drugs, which is blamed on research and development costs—and remains a hot debate topic among presidential candidates—to market consolidation and regulatory scrutiny, drug makers are under a microscope. This is especially true when it comes to the way they move from R&D to manufacturing. Specifically, drug makers need to find ways to decrease the time it takes to get a drug from a clinical trial to approval and production.
The latest nudge comes from Food and Drug Administration (FDA),which is asking pharma companies to work with its new Emerging Technology Team (ETT) to adopt innovative approaches to manufacturing. The FDA has issued a draft guidance for the industry outlining where emerging technology should be placed in the plant, such as in design, commercial scale and testing. However, there is still no guidance on the actual types of technologies these companies should use.
While all eyes are focused on the tools and techniques needed to move from batch to continuous processing in drug production—with terms like Quality by Design and Process Analytical Technology being bandied about—there's rarely a mention of how the biggest industry buzzwords (Big Data, the Internet of Things (IoT), or predictive analytics), could transform these modern-day Luddites into manufacturing machines.
According to Tata Consultancy Services (TCS), the Internet of Things for Pharmaceutical Manufacturing (IoT-PM), which includes a network of sensors on the manufacturing floor, has the potential to radically change operations. Drug production supervision, remote diagnostics and effective drug flow management are just some of the use case scenarios outlined in the TCS whitepaper "Pharmaceutical Manufacturing Driven by the Internet of Things."
For example, the ability to connect equipment and sensors on the plant floor and aggregate data over multiple cells and across worldwide facilities would enable exceptions to be addressed in real time to minimize waste, improve equipment utilization and lower production costs. This model can also be applied to the distribution channel. IoT can help monitor end-to-end serialization devices, providing a feedback loop in shipment tracking.
As pharmaceutical companies become more digitally savvy, they'll learn that there are other ways to connect processes, such as using social media apps to find patients for clinical trials.
Another report, "Pharma 2020" by PricewaterhouseCoopers, concurs and emphasizes that one of the major steps pharmaceutical companies need to take is to create better connectivity between different parts of their value chains. This requires the adoption of more digital technology.
And as pharmaceutical companies become more digitally savvy, they'll learn that there are other ways to connect processes, such as using social media apps to find patients for clinical trials. This may sound irrelevant to manufacturing, but when you consider the competitive nature of novel drug development, the time of clinical trials (which can represent up to 60% of development costs) and the difficulty of recruitment, the Internet is becoming an important tool for targeting patient demographics.
Everyone likes to share on Facebook, LinkedIn and Twitter, which are platforms that also happen to have sophisticated search algorithms. Couple that search power with analytics that sift through millions of patient conversations online, and drug companies can quickly identify patients who are a fit for clinical trials.
Taking that a step further, linking feedback from patients directly to development and manufacturing processes is an essential building block in the future, said PwC. To that end, data exchange with clients, suppliers and even regulators will need to be configured to be safe and efficient. That's where Internet portals and customer relationship management (CRM) systems will be needed.
So we are witnessing the evolution of an industry. In the near term, pharma companies will increase safety and quality using automation and add-on applications. Longer term, companies will migrate from batch manufacturing to integrated continuous processes. And a bit further into the future we could see digitally competent companies operating in flexible pharmaceutical value chains. When that day comes, perhaps these companies will be operating under a little less "pressure."
Stephanie Neil is the Senior Editor of Automation World.